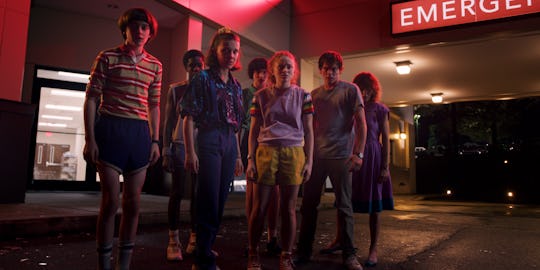 Netflix
Puzzle Over These 'Stranger Things' Theories While You Wait For Season 3
The newly-released trailer for Season 3 of Stranger Things is a wild ride. While it didn't give away everything about the upcoming season, which premieres on Jul. 4, it did drop just enough clues to get fans' brains buzzing. These 7 Stranger Things Season 3 theories are based on the trailer, and they take advantage of every blink-and-you'll-miss-it moment to craft some compelling speculation.
A lot has changed since last season. The kids are growing up and becoming teenagers, leaving behind childish things for more mature pursuits. A mall has sprung up in Hawkins that sends the 80s vibe into overdrive, but it's not all Madonna cosplay and blue eyeshadow. There has always been darkness lurking in Hawkins and it looks like it's about to encroach on the lives of the protagonists once again.
Fans have analyzed every frame to try and figure out what direction the new season will take. With a bigger, badder threat on the rise, it's starting to seem like no one is safe — and on top of battling monsters, these kids have to put up with going through puberty. The Stranger Things Season 3 trailer emphasizes how much has changed, but some things are eternal. Like bizzarro monsters that want to eat you and your friends.