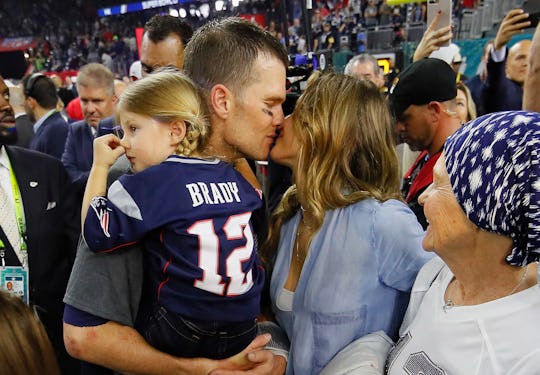 Kevin C. Cox/Getty Images Sport/Getty Images
Here Are 7 Of The Sweetest Super Bowl Moments Tom Brady Shared With His Family
New England Patriots fans can't wait to see Tom Brady do his thing during Super Bowl LIII this Sunday, when the team will take on the Los Angeles Rams. As a champion quarterback, Brady is one of the biggest names in the NFL, but fans know that he's really a family man at heart. Here are the seven best moments Tom Brady shared with his family at previous Super Bowls that will melt your heart.
As a quarterback for the Patriots, Brady has played in eight championship games, with Super Bowl 2019 being the ninth. Even though they lost to the Philadelphia Eagles last year, it didn't stop the Patriots from coming back this year to reclaim the championship title. If his team beats the the Rams this Sunday, it will be Brady's sixth Super Bowl win.
Fans love that Brady is a great quarterback, but the commitment he shows to his family makes him even more endearing. He and his wife, model Gisele Bündchen, have three kids — Benjamin, 9, Vivian, 6, and John, 11 — and despite being a power couple, the two always seem make their family a priority.
Gisele, the kids, and extended family members are almost always present and supportive during his games, but here you'll see some of the sweetest Brady family moments from past Super Bowls: