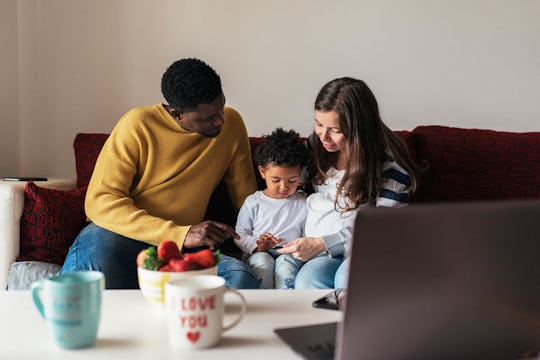 Santi Nunez/Stocksy
7 Surprising Benefits Of Couples Therapy That Could Make Your Whole Family Happier
Going to therapy can be intimidating in and of itself, but it can be especially daunting to take on with a partner. Many people have the misconception that going to couples counseling is a sign your relationship is doomed, but there are so many benefits for couples who go to therapy together. Couples therapy can't guarantee your relationship will survive, but it's definitely not a sign your relationship won't make it either. In fact, you might be surprised by how many ways it can actually improve your life.
Psychology Today reports that couples therapy is currently 75 percent effective, based on 25 years of research by the American Psychological Association. The APA measures the effectiveness of couples therapy by tabulating the number of complaints people have about their relationship, and studies show that the number of complaints usually decreases for at least two years after a couple attends counseling.
The 25 percent who don't benefit typically have toxic relationships that won't improve with or without therapy, according to research, or one or both partners is struggling with an individual issue. As Dr. L. Gordon Brewer, Jr., MEd, LMFT of Kingsport Counseling Associates, PLLC tells Romper via email, "If someone is suffering from addiction and/or some other sort of significant mental illness, individual therapy is a good first course. But since it always affects the relationship, couples therapy is usually necessary eventually."
Therapy can't magically solve all of your problems, but it can give you and your partner tools for better coping with issues you have together, or individually. Read on to find out some of the lesser known benefits of couples therapy.