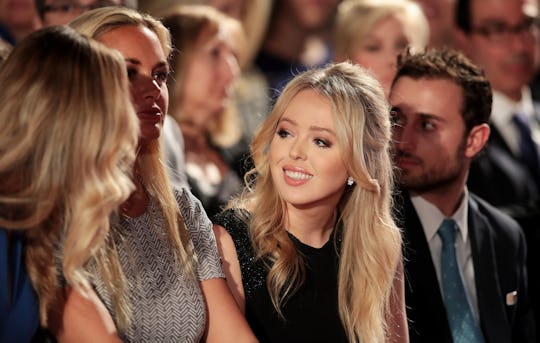 Scott Olson/Getty Images News/Getty Images
7 Surprising Facts About Tiffany Trump You Probably Didn't Know
Glance over the countless tweets and articles written about various members of the Trump family, and you might notice that there's one particular member who receives less attention than all the rest — Tiffany. But she shouldn't be, since there are some surprising facts about Tiffany Trump that are worth reading, especially when you just can't read one more article about Ivanka, Eric, and Don Junior. She may not be running her father's businesses or holding dubious positions of power in the White House, but she's been staying busy.
President Donald Trump's youngest daughter, 24, is his only child from his second marriage with Marla Maples. According to what her father allegedly told Howard Stern back in 2004, according to Newsweek, Maples' pregnancy with Tiffany was a bit of a surprise, and though her parents soon got married, they divorced six years later, finalizing in 1999. Maples took her daughter to California to escape the spotlight a bit, meaning that Tiffany grew up across the country from most of the rest of her family, with Maples referring to herself as a "single mother." As Tiffany told DuJour Magazine:
I don't know what it's like to have a typical father figure. He's not the dad who's going to take me to the beach and go swimming, but he's such a motivational person.
So in all that time that she spent away from Trump Tower, what was Tiffany doing? While some of her activities are pretty typical for an heiress, others are more surprising.
1. She Released A Pop Song
This is the most important thing about Tiffany Trump. When she was 17, she released a pop song called "Like A Bird," not to be confused with the Nelly Furtado's "I'm Like A Bird." If you're clicking the video in hopes of hearing what Tiffany's voice actually sounds like, brace yourself for disappointment. The track is so heavily auto-tuned, it would confuse T-Pain. It also contains the lyrics, Everybody's partying, obsessing over crazy things, I just want serenity while living it up. Perhaps this is the key to understanding Tiffany.
2. She Was One Of The Rich Kids Of Instagram
Tiffany is best friends with Andrew Warren, an aspiring designer and fellow extremely rich heir, and she featured heavily on his Instagram account, along with the rest of their group of wealthy friends. Their excesses were enough to get them deemed the "Rich Kids of Instagram," or the "Snap Pack," and they were profiled as such for DuJour Magazine.
The writer of the piece, Carson Griffith, interviewed them in the Hamptons, and later told The New York Times for a profile called "The Other Trump" that Tiffany was a little different than the rest, saying:
She stayed in the city Friday night to finish a paper, and I never saw her drink a glass of wine... When I would ask about her, she would say: "How about you? What's your job like?"
3. She Goes To Law School
After some well-documented tours of schools like Harvard and NYU, according to The Washington Post, Tiffany ended up at Georgetown Law in Washington D.C., nice and close to her father (well, when he isn't at Mar-a-Lago).
4. She Has A Degree In Sociology
Tiffany graduated from The University of Pennsylvania with a B.A. in sociology, according to The Washington Post, and her father called her "a great student."
5. She Reportedly Owned A Tutu Belonging To Shirley Temple
According to The New York Times profile of her, Tiffany apparently once showed up at a birthday party for 3-year-olds in her mother's hometown in Georgia wearing "a faded pink tutu." Family friend Janice Kiker told the Times, "I was shocked. Then someone told me it had belonged to Shirley Temple. I said, 'Never mind.'"
6. She Grew Up With The Kardashians
According to Vanity Fair, Tiffany grew up around the Kardashians in Calabasas, California, and their mothers were friends. I wonder if they ever talk now about the pressures of celebrity, or if they debate about the future of Planned Parenthood.
7. Her Siblings Reportedly Tried To Cut Her Out Of Her Inheritance
Things seem fine between Tiffany and her older siblings now — just look at the Snapchat above of Tiffany and Ivanka wishing the world a Merry Christmas — but as Newsweek reported, Donald Jr. and Ivanka allegedly tried to "bump" Tiffany out of her inheritance, according to what President Donald Trump said during a 2005 interview with Howard Stern unearthed by Newsweek last year. Yikes.
The world is bound to learn more and more about Tiffany the longer her father is in the White House. After all, despite the fervent wishes of many Democrats, her father doesn't appear to be going anywhere anytime soon.
Check out Romper's new video series, Bearing The Motherload, where disagreeing parents from different sides of an issue sit down with a mediator and talk about how to support (and not judge) each other's parenting perspectives. New episodes air Mondays on Facebook.