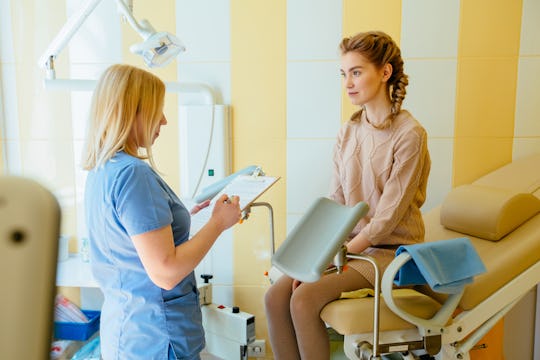 Iryna Inshyna/Shutterstock
7 Symptoms To Talk To Your Gynecologist About ASAP, According To An OB-GYN
Even when you're well into adulthood, the female reproductive system can feel mysterious. So much can change in your body in just one month, and those changes only increase as you age or go through new phases (like pregnancy), making it hard to tell what's actually cause for concern. Many symptoms that would worry a gynecologist are surprising; you might have some issues you should check in about and not even realize it.
Part of the difficulty of knowing if something is wrong or not *down there* is because the same symptoms can mean nothing or mean something really bad in two different people. Cramps could be a sign of ovulation in one person, and an indicator of endometriosis in another. Basically, only a doctor can give you a clean bill of health, so it's best to see a gynecologist if you notice anything abnormal.
But determining what exactly is "abnormal" is hard when it comes to gynecological health, so Romper spoke to Mary Jane Minkin, M.D., a clinical professor in the Department of Obstetrics, Gynecology, and Reproductive Sciences at the Yale University School of Medicine via email about what you should be looking out for. Read on to find out what symptoms you should probably make an appointment to discuss.