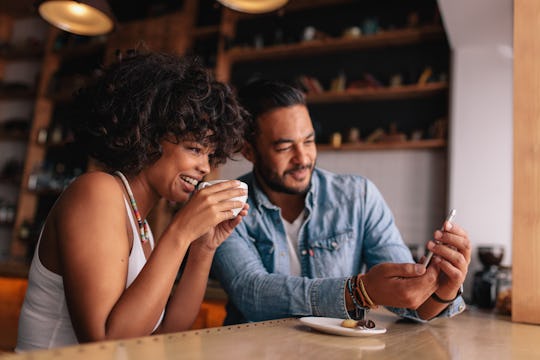 Jacob Lund/Shutterstock
7 #TBT Valentine's Day Instagram Captions To Create The Perfect Vintage Feed
Figuring out the best captions for Instagram seems almost a cottage industry at this point. It's so difficult to get it right all the time, even if your pictures are #goals. When it comes to a #TBT post, it can get even trickier because you're not describing something current, rather you're looking to encapsulate a moment in the past through the lens of today. While this can lead to hilarious results, it can go awry fairly quickly, and you'll end up with #facepalm. I'm here to help. I've compiled the best #TBT Valentine's Day captions, because sometimes you just need a nudge.
In the land of throwback Thursday, there are several categories of pictures. There's the wayback photo of a photo (something from your childhood, perhaps), there's the more recent "regram" of your images thanks to Instagram adopting the "memories" function, and then there's the #TBT that literally happened 15 minutes ago, and you're capitalizing on the hashtag by being ironic. They're all great and have their place, but when you add in the holiday factor, things can get hairy.
It's all about wielding the hashtags and irony properly. Too many hashtags, and you look like you're selling something, too few and it looks like you don't have a 'gram game. Find the balance and you win. Since Valentine's Day falls on a Thursday this year, here are some #TBT captions for your vintage posts.