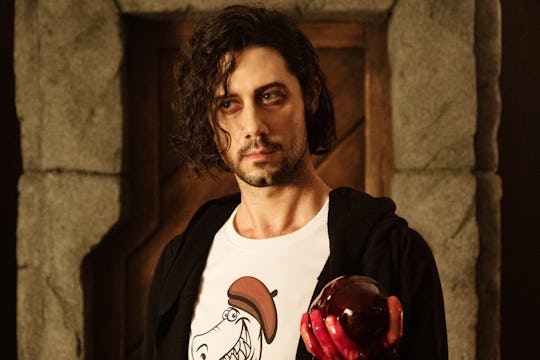 Eric Milner/SYFY
The Monster's Sister Is The One To Watch Out For On 'The Magicians'
Though the Monster has been a constant presence in Season 4 of The Magicians, the audience still knows very little about him. For much of the season, Quentin and co. assumed that the Monster was looking to rebuild the body that was taken from him a millennia ago — but recent information indicates that he's actually out to get revenge for the murder of his sister. These 7 The Magicians theories about the Monster's sister try to get to the bottom of the pantheon of gods that have been shifting in and out of Season 4.
The Monster is not exactly a god. It's a powerful being that was held prisoner in Castle Blackspire, either as punishment for a crime or to keep it from hurting anyone else. The Monster doesn't have a body of its own, which is why it's borrowing Eliot's; because of that, it was easy to assume that its mysterious mission to kill gods was an attempt to rebuild the body it no longer had. However, a journey deep into the Monster's mind revealed that its sister was once killed by gods as a sacrifice. It may be trying to get its sister back, or just get vengeance.
Penny theorized that the Monster's sister was truly the dangerous one, because her supposed crimes led to her death. The Monster was just imprisoned. That may or may not be true, but these theories do their best to figure out this complicated situation.