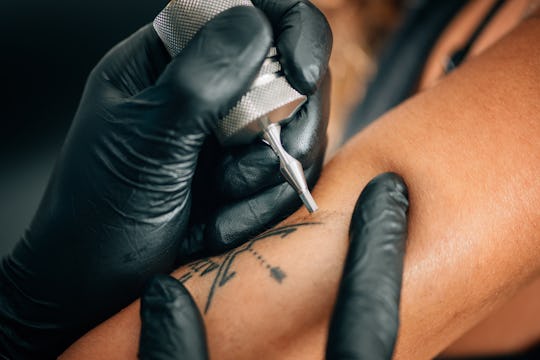 Shutterstock
7 Things A Tattoo Artist Wants You To Know About Why They Cost So Much
If you've priced tattoos in the past few years, then you know that plenty of shops and artists do not come cheap. So why did that tiny circle on your wrist cost over $100? By learning more about the things a tattoo artist wants you to know about cost, you'll have a much better idea of why tattoos tend to come with certain prices. There's a lot more to it than a little bit of ink and some needles.
When you factor in the many little costs of tattooing, as well as the number of years it takes to become proficient in the art, then the prices start to make a lot more sense. A tattoo isn't some mass-produced thing you can order online; instead, it's a custom piece of art designed to fit your specific body. Plus, it always makes sense to pay the person who's controlling the needle.
To learn more, Romper spoke with Tabby Farrar of Just Can't Settle, a former tattoo shop receptionist and generally heavily tattooed person with a lot of friends in the industry. With Farrar's thoughts, as well as some insight from artists in the industry, it's much easier to understand why tattoos cost what they do.