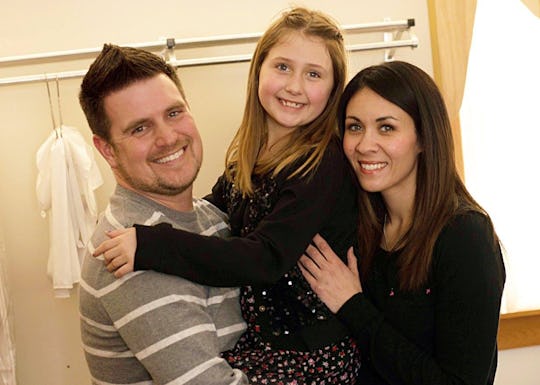 Courtesy of Candace Ganger
How It Felt To Watch My Kid Walk Down The Aisle At My Own Wedding
When I married my husband almost 10 glorious years ago, we had our almost 1-year-old daughter at our side. She wasn't the reason we chose to marry, but after we decided to tie the knot we immediately knew she had to be part of the big day. Of all the incredible things I felt when my kid walked down the aisle at my own wedding, the one I remember most is sheer anxiety. Just, you know, not for the reason you would probably, and perhaps initially, assume.
My wedding day was unexpectedly hot. Actually, sweltering is probably a better description. We planned an October wedding, hoping to experience beautiful fall temperatures but, instead, it was one of the hottest fall days on record. Our ceremony was in a gorgeous cultural center on the top floor, with no air conditioning. There was no way around the discomfort while exchanging vows, but we did the best we could with what we had (paper fans, anyone?).
One thing the remained constant throughout this amazing day, however, was the presence of family, friends, and of course, our daughter. I even crowned her my Maid of Honor, she's just that special. The wedding was five days before her birthday, and up until that point she had never missed a nap or been surrounded by so many people before, so my partner and I worried it'd be disastrous in so many ways. Looking back, I should've given her more credit, because honestly, she did great and I worried for no reason. Here's some things I felt before, during, and after she took that trip down the aisle on the day her father and I became husband and wife.