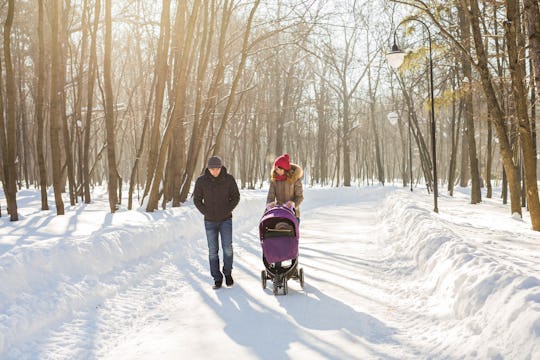 satura_/Fotolia
7 Things To Know Before Taking Your Baby Out In The Winter
Winter can be super fun for babies, but it can also be dangerous. This is not to alarm you; rather, it's to help you prepare for the upcoming season. You and your baby don't have to stay inside just because it's cold. Winter can be really fun for parents who want to teach their little ones to catch snowflakes on their tongues, but everyone can probably agree that winter is most enjoyed when everyone is warm and comfortable. Being prepared is key, and there are things to know before taking your baby out in the winter.
My oldest daughter was born in January, and I was concerned about taking her outside. My child's pediatrician told me it was fine — if not encouraged — to go out for walks with my baby every day , if only for 15 to 30 minutes. Obviously, on days where the temperature dipped below zero or there was freezing rain, we stayed inside, but overall, those walks became my sanity. My baby often fell asleep during those walks and the quietness it provided me was just enough to gather my thoughts and take a few much needed deep breaths (even if I could see my breath).
Before venturing out in possible snow, ice, and wind there are eight important things to keep in mind that will help keep your baby safe and comfortable during the winter months.