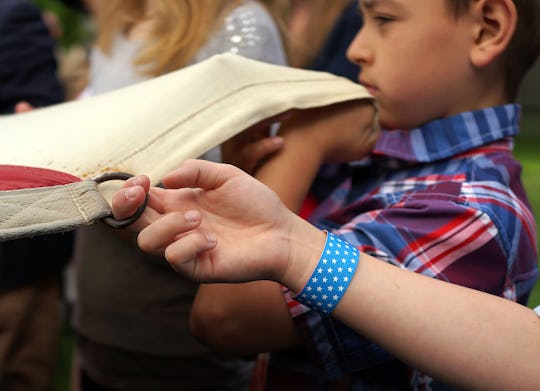 Spencer Platt/Getty Images News/Getty Images
7 Things You Can Do With Your Kids To Honor September 11
The events of September 11, 2001 will forever be remembered as one of our nation's greatest tragedies. Many Americans were left in shock and fear that the country people believed to be safe and free could be vulnerable to attacks from those who do not respect America's values. And though the country continues to grieve for lives that were lost, our nation remains determined and strong. If you are looking for a way to honor the anniversary of the tragic attack on our country with your family, there are things you can do with your kids to honor September 11.
Though your kids may not have been born when the attacks took place, it is important for them to learn about what happened on that day and how our lives were impacted in an age appropriate manner. If you can't make the trip to visit one of the memorial sites, you can read a book or write a thank you letter to a police officer or service member right in your own home. September 11 has also been declared a National Day of Service, making it a great reason to find a way for your family to volunteer to help those in need together.
The 15th anniversary of the terrorist attacks on this country is a great time to start a tradition with your family that continues to keep those who lost their lives close to your heart.