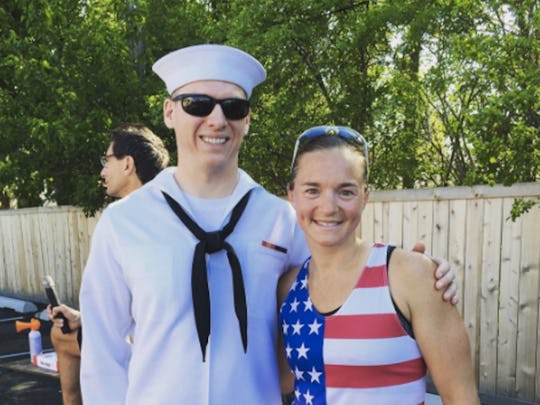 mstockwell01 on Instagram
7 Things You Didn't Know About Paralympian Melissa Stockwell
It takes an incredible amount of time, strength (both mental and physical), and determination to become a competitive athlete. And while many athletes have skills that are worthy of our admiration and appreciation, U.S. Paratriathlete Melissa Stockwell is a star whose light shines just an extra little bit brighter.
After joining the ROTC and graduating from the University of Colorado in 2002, she was commissioned into the U.S. Army as a second lieutenant. She was deployed to Iraq in 2004. On a routine convoy, she was injured when her vehicle hit a roadside bomb, and she was transported to Walter Reed Army Hospital. However, she didn't let the events of that day prevent her from leading the life she wanted.
In addition to working as a prosthetist, Stockwell has continued to excel in professional athletics and promote others in the adaptive sport community through and organization she cofounded. She first competed for Team USA as a swimmer in the Beijing 2008 Paralympic Games, and this summer, she is working to compete on behalf of Team USA in a new sport in the Paralympic Games: the Paratriathlon. We partnered with Smucker's® Uncrustables® to help you get to know Melissa, one of the Paralympic Games' most inspiring athletes — so read on to learn about her.
1. She's Known For Two Historic 'Firsts'
Stockwell was the first female American soldier to lose a limb in the Iraq War, and is also the first Iraq War veteran to compete in the Paralympic Games as a swimmer in Beijing in 2008.
2. Her Pre-Race Ritual Will Surprise You
She has to have gummy worms the night before a race. Yum!
3. She gave birth to a son in 2014 and since then, her racing times have improved!
It's true!
4. She Has A Need For Speed
For winter, Stockwell has her eye on the brand-new Paralympic Games event skeleton racing: racing down an icy track at speeds of up to 85 miles per hour.
5. She Recovered Incredibly Quickly After Losing Her Leg
Despite infections and many surgeries, Stockwell took her first steps with a prosthetic leg just 52 days after losing her leg.
6. Her Favorite Emoji Is Red, White, & Blue
An American flag emoji makes perfect sense for the athlete who carried the American flag at the Beijing 2008 Olympic Games Closing Ceremony.
7. She's Paying It Forward
Stockwell is a prosthetist, which means she's professionally trained to fit amputees with artificial limbs. She also cofounded the Dare2Tri Paratriathlon Club, which works with kids, adults, and service members with physical disabilities who are interested in training for or participating in paratriathlons.
Images: Melissa Stockwell Instagram
This post is sponsored by Smucker's® Uncrustables® Sandwiches, a Proud Sponsor of Team USA.