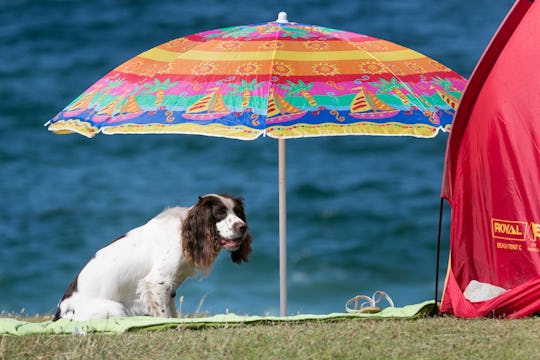 Matt Cardy/Getty Images News/Getty Images
7 Things You Should *Never* Do When Your Dog Is Overheated
Although the hottest days of the year are known as the dog days of summer, actual dogs don't fare well in extreme heat. It's a potential health hazard. So knowing the things you should never do when your dog is overheated is crucial information for any canine caretaker. You don't want to accidentally make your dog feel any worse.
In fact, dogs aren't equipped for coping with high temperatures the same way as humans. "Dogs don't sweat like people do. They use panting to cool themselves, so dogs that have trouble breathing are going to be more susceptible to heat stroke," said Dr. Maureen McMichael, boarded emergency and critical care specialist at the University of Illinois Veterinary Teaching Hospital. Flat-faced breeds such as bulldogs and boxers may need special care in the heat. But even dogs with more robust snouts aren't immune to soaring temperatures, so it's important to keep an eye on your furry friend.
In general, the signs of overheating in dogs can be a bit subtle. Panting, excessive drooling, and reddened gums are some of the milder signs of overheating in dogs, as noted in PetMD. It means you need to help your pet cool down fast. Read on to learn what you should and should not do when it comes to treating the signs of heat exhaustion in your dog.