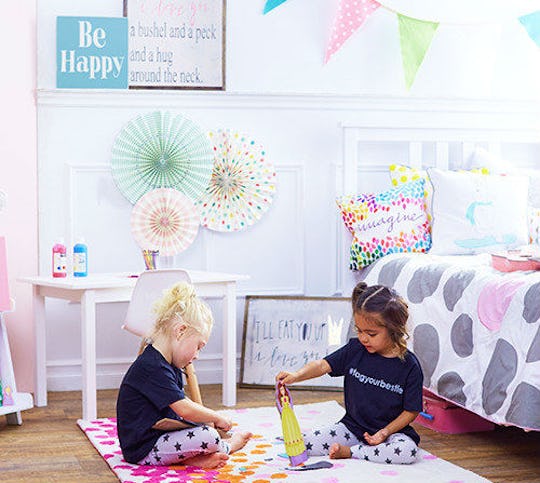 Courtesy of zulily
7 Tips For Decorating A Child's Bedroom That They'll Never Outgrow
The moment you learn you're becoming a mother, your brain goes into overdrive creating a long list of things to do before the baby arrives. And one of the biggest tasks on that to-do list is decorating (and in some cases, building) a nursery. Though it's tempting to cover the room with playful wallpaper and pastel everything, it's important to remember that your baby will eventually grow up and outgrow that décor. And although you can redecorate year after year, you're better off utilizing tips for decorating a child's bedroom that they'll never outgrow.
Although decorating a child's bedroom is not the most difficult task you'll encounter as a parent, it is one that can eat up a lot of your time, money, and sanity — three things that no mom ever wants to waste. To find out the best way to create a bedroom your child will love for years, I spoke with Ellen James, site merchandiser for online retailer zulily. James is responsible for finding products that fit with the latest home décor trends (just look at what she pulled for the Ava and Everleigh photoshoot), a role that has given her a lot of insight into what moms want when it comes to their children's bedrooms.
"Moms decorate the house with some synergies to how they dress their kids," James says, noting that in most cases this means being on trend. But there is a way to stick to the trends and create a room that your child will love well into their tweens. Here are a few of James's tips for creating a room that your child will never outgrow.