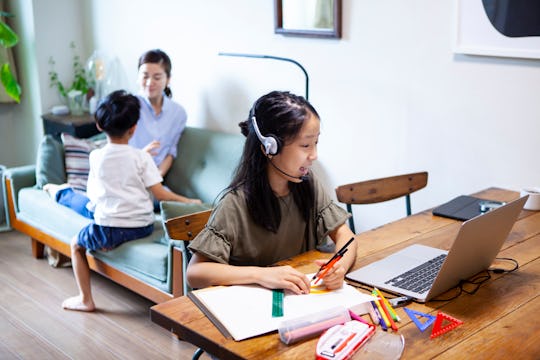 kokouu/E+/Getty Images
7 Tips For Getting Into A More Productive Virtual School Routine
Even in the best of times, parents constantly have a lot to juggle, between working a job, anchoring a family, and reconnecting with friends along the way. In 2020 – aka the year that has felt like a millennium – this workload has grown to include education. With schools starting back up and millions all over the globe returning to a new kind of normal, both parents and kids are being thrown into unique routines that will more than likely include distance learning. The good news is that although this may be new territory for your family, there are some tips and tricks that can give your kids a leg-up once that virtual school bell rings. For the uninitiated, the staff at Romper put together this handy list of things you can use to help your kids to establish a more productive virtual school routine.
Set Aside A Designated Learning Area
Productivity can be challenging for fully grown adults, which makes it a no-brainer that teens who're still in the process of developing and learning can struggle with it too. One way to tackle this issue in the age of distance learning is to develop a space that's specifically designated for learning. Much like a typical classroom acts as a visual/environmental prompt that says "this space is for schoolwork," a designated spot in the home can serve the same purpose. This can be incredibly effective, especially when kids have all the comforts of home around, tempting them as distractions.
Establish A Routine That Includes Breaks
One of the biggest stressors for parents when it comes to distance learning is trying to provide a similar structure and routine to the school system. Without that structure, it can be hard for kids to get in a zone that feels safe and predictable, while also not getting sucked into working too much or too little. When setting up a routine, it's important to build in designated break times, so your kids don't get burnt out or sucked into the distractions of tech-based learning.
Keep Your Kids' Vision In Focus
A side effect of all this screen time is that it can be hard on your kids' eyes. Given the fact that a lot of their work will be done via tech, it's wise to invest in a product that can help them learn without all the eye stress. Students everywhere may benefit greatly from CooperVision's Biofinity Energys® contact lenses, that were specifically developed with screen time in mind. The lens material helps retain moisture and comfort throughout the day and the design of the lens helps with eye tiredness so your kids can easily shift from online to offline events with less strain.
Get Ahold Of Tech That Can Help Minimize Distractions
Just like working from home, virtual learning has its pros and cons. With more classes being delivered online and parents also working from home, your kids might wind up in a space where they're having to complete their learning alongside others in the household doing similar school tasks or completing the duties of their day job. Some things that can help tackle distraction problems include noise cancelling headphones, timers, or apps that limit phone or computer usage during virtual school times.
Make Time For Physical Activity
With the rise of video games and social media-based social interactions, kids are spending less and less time outside engaging in physical activity. With virtual learning, it can be all too easy to get stuck at a desk all day, neglecting your body's physical needs to get outside and be active. A good antidote to this is to sit down with your kids when trying to make up a schedule and to make sure to include times to go outside and be physical, away from screens and schoolwork.
Set Up Family Meetings To Open Up Communication
It's been a hectic year, and stress is in the air. In order to protect your sanity and your relationship with your kids in these trying times, it's important to keep the lines of communication open. Your kids might need more support, more independence, or even just to vent when it comes to the school year. By clearly expressing that you're available to talk and setting up little check-in meetings to see how distance learning is going, you'll be better tuned in to how the family can work together to make things work this school year.
Prioritize Grounding Yourself
At the end of the day, it's important to prioritize self care and keeping yourself grounded in the moment. With working, parenting, and trying to do the right thing in the current global circumstances, your mental health should be prioritized. Living mindfully in the moment, taking time for yourself, and even meditating are all things you can do to try and keep yourself well and happy during this stressful time of year.
This article is sponsored by CooperVision.