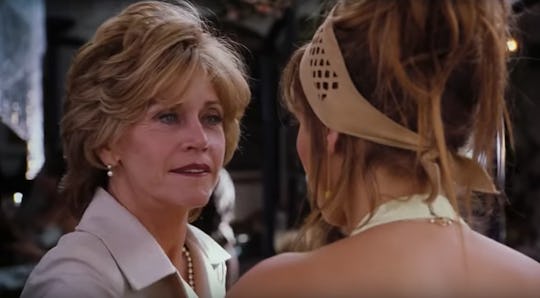 Screenshot/New Line Cinema
7 Tips For Surviving Your Toxic Mother-In-Law During The Holidays
To be honest, I haven't had the best relationship with my mother-in-law. And, sadly, the holidays seem to bring out the worst in both of us. She hates my cooking, parenting, and housekeeping skills, so I feel like I can't do anything right. She does and says things to completely undermine me, so I'm bitter, passive-aggressive, and turn into a recluse so I can maintain my sanity. That's why I'm so glad I found expert tips for surviving toxic mother-in-laws during the holidays. Because, yes, I am totally going to need them. Again.
According to relationship therapist Terri Orbuch, Ph.D., the best way to survive a toxic relationship with your mother-in-law is to realize that her comments and behaviors are a reflection of her, not you. You can try not to let your mother-in-law get to you, or you can involve her in holiday planning to aim for common ground. Orbuch adds that it's important to set boundaries and expectations, so you don't burn out or find that trying to please her results in a less-than-happy holiday for you. If you fail to see eye-to-eye, psychotherapist Greg Cason suggests assigning "communicating with your mom" to your spouse's holiday to-do list. Carson also recommends some reverse psychology, telling HuffPost that by finding something (anything) you can ask your mother-in-law's input on could make her feel more included. And if she feels more included, she's less likely to try to interfere in the future.
If you've tried everything and your mother-in-law's toxic behavior continues to ruin the holidays, it may be time to limit contact with her entirely. As psychologist Sherrie Campbell told ABC News, if your mother-in-law is abusive, manipulative, negative, or toxic, sometimes you have to love yourself enough to cut off contact. In other words, don't invite them to celebrate the holidays with you.
For more tips on surviving the holiday season with a toxic mother-in-law breathing down your neck or looking over your shoulder, read on: