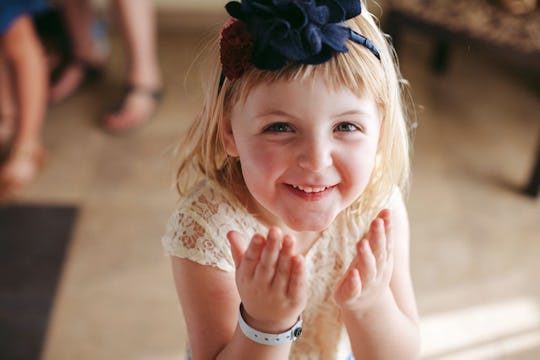 Rob And Julia Campbell/Stocksy
Get Better Pics Of Your Kids With These 7 Tips From Wedding Photographers
There are so many moments you want to document forever as a parent. Your kid's first steps, holiday gatherings, crazy hair day at school. But getting energetic children to stay still long enough to actually take a good picture of these moments can be a struggle. Luckily, these tips from wedding photographers for getting kids to pay attention can make a huge difference the next time you're trying to get your little one to pose.
Getting a decent photo of your children can be difficult no matter how old they are, though it's probably a bit simpler to snap a shot when they're infants and can't move. Advances in camera technology have increased the quality of at-home photo shoots; taking frame-worthy photos from your iPhone has never been easier, and things such as self-timers and cameras that work underwater are game changers for family photos. But even with all of these developments, it can still feel like you have to take a hundred pictures before you can get one where your kid is actually looking at the camera, and that just gets more difficult when you add more kids to the mix.
So it couldn't hurt to get some tips from the pros. Read on for the go-to tricks of professional photographers for getting children to pay attention during a photo shoot, and get your camera ready.