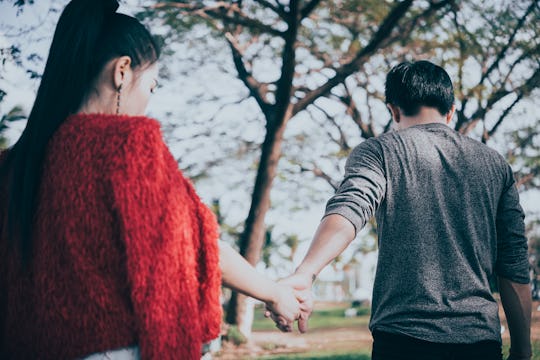 kittirat roekburi/Shutterstock
7 Topics Your Partner Should *Not* Bring Up In Front Of Your Parents
Meeting one another's parents is a big step for many couples, and it's a moment that plenty of people look forward to with eagerness. Most people do everything to make the best first impression. However, if your partner brings up these topics front of your parents, then it's possibly a deal-breaker for the relationship. Disrespecting your family is never a good look.
For the most part, those early meetings in particular are all about letting your partner and parents get to know one another better. A wise S.O. will treat the meeting as a way to find commonalities and establish a bond. When meeting a partner's parents, "Your goal is to get to know them better by staying curious and asking questions, rather than taking firm positions on things," as Jennifer Longmore, B.A.S.W., M.Ed., relationship counselor and columnist for Marriage.com, tells Romper.
That said, no family is perfect. If your family of origin is particularly dysfunctional, then this list might not necessarily apply in your case. But if you have a healthy relationship with your parents, then of course it's important to find a partner who also respects that bond. A significant other who constantly needles or belittles your lovely parents may need to hit the road sooner rather than later.