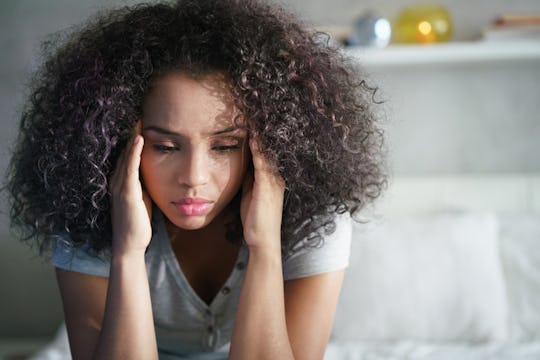 Diego Cervo/Shutterstock
7 Unexpected Things That Are A Sign Of A Chemical Imbalance In Your Brain
Are you ever perplexed by your own behavior? Perhaps your brain is to blame. As the unexpected things that are a sign of a chemical imbalance in your brain go to show, brain chemistry just might affect some surprising parts of your life.
So what's the deal with these chemicals in the brain, and why do they need balancing? Well, it's all a part of figuring out why certain disorders affect some people and not others. One theory claims that some conditions, such as anxiety disorders, may be caused by imbalances of certain chemicals in the brain, according to the Cleveland Clinic. The chemical imbalance idea is a huge simplification of the way the brain works, but it makes a kind of intuitive sense to many people. For instance, some researchers believe that an imbalance of the chemical serotonin in the brain may affect a person's mood, possibly leading to conditions such as depression, according to WebMD.
Not all researchers agree with the chemical imbalance theory, however. Some experts find the "chemical imbalance" theory misleading, because it downplays the way genetics and environmental factors may contribute to a disorder, according to the Social Anxiety Institute. Basically? The brain is complicated.
But for those who do subscribe to the theory, all kinds of behaviors may result from these chemical imbalances. Read on to learn more about the way these brain chemicals might influence your everyday life. As always, though, contact a healthcare professional if you have any concerns about the way your body or brain is working.