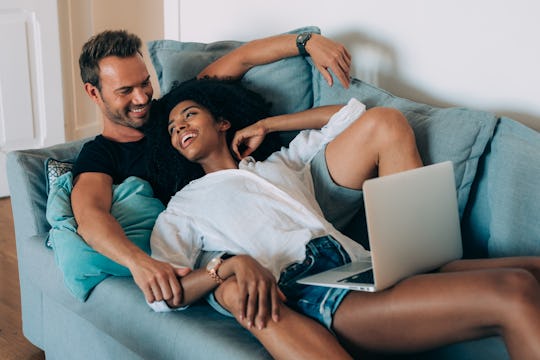 DavidPrado/Fotolia
7 Valentine's Day Poems For Your Boyfriend That Really Aren't Cheesy
Valentine's Day is just around the corner and lovers everywhere are wrapping up last minute preparations to show their significant other how much they care. Dinner dates, flower bouquets, and boxes of chocolates are obviously the most popular choices, but for those who want to go the extra mile, a good poem can't be beat, especially Valentine's Day poems for a boyfriend. Not every guy will appreciate poetry, but for those who do, there is nothing more romantic.
I know, poetry doesn't exactly sound like a new or unique gift. But the thing about poetry is that it's a stereotypical way to show your love for a reason — poems can be incredibly romantic, sentimental, and lovely. Whether you and your partner like to read them together or you're more of a "slip one into his jacket pocket" kind of couple, these seven poems are perfect for Valentine's Day for your boyfriend. Write them in a card, stick one to the fridge, or recite it to him in the morning as an early Valentine's Day wake-up call. Seriously, no matter how you share it, a bit of your heart in literary form is sure to get your guy feeling extra loved in no time.
1. "Love Comes Quietly" by Robert Creeley
This is a perfect poem to celebrate a romantic relationship that was neither planned or expected, and particularly apt for the lover who never thought she'd settle down.
Love comes quietly,
finally, drops
about me, on me,
in the old ways.
What did I know
thinking myself
able to go
alone all the way.
2. "For What Binds Us" by Jane Hirshfield
Hirshfield perfectly captures the intimate bond between two people who have been through thick and thin together. Read the full poem, and consider offering it to a boyfriend with whom you've weathered life storms.
And when two people have loved each other
see how it is like a
scar between their bodies,
stronger, darker, and proud;
how the black cord makes of them a single fabric
that nothing can tear or mend.
3. "I Love You" by Ella Wheeler Wilcox
Looking for words that match the level of passion you feel for your guy? Look no further than this sensual poem about young love.
So kiss me sweet with your warm wet mouth,
Still fragrant with ruby wine,
And say with a fervor born of the South
That your body and soul are mine.
Clasp me close in your warm young arms,
While the pale stars shine above,
And we'll live our whole young lives away
In the joys of a living love.
4. "First Poem for You" by Kim Addonizio
If your guy is tatted up, you won't want to pass on this one. Full of longing and eros, this poem will have the two of you, ahem, comparing tattoos in no time.
I love to kiss
the pictures in your skin. They'll last until
you're seared to ashes; whatever persists
or turns to pain between us, they will still
be there. Such permanence is terrifying.
So I touch them in the dark; but touch them, trying.
5. "Everything Good between Men and Women" by C.D. Wright
If you and your fella have been together for a long time, or enjoy dreaming about the future with years under your belt, this poem by C.D. Wright celebrating the romance in the mundane could be the perfect one for you.
The first few tongues are clearly
preparatory. The impression
made by yours I carry to my grave. It is
just so sad so creepy so beautiful.
Bless it. We have so little time
to learn, so much... The river
courses dirty and deep. Cover the lettuce.
Call it a night. O soul. Flow on. Instead.
6. "How Do I Love Thee?" by Elizabeth Barrett Browning
You simply can't go wrong with a good classic, and no one does love poems like Elizabeth Barrett Browning. Teeming with sheer romanticism, this famous poem will not disappoint.
How do I love thee? Let me count the ways.
I love thee to the depth and breadth and height
My soul can reach, when feeling out of sight
For the ends of being and ideal grace.
I love thee to the level of every day's
Most quiet need, by sun and candle-light.
I love thee freely, as men strive for right.
I love thee purely, as they turn from praise.
7. "I Carry Your Heart" by E.E. Cummings
Last but not least, try this incredibly moving poem by Cummings on for size. In his unique style, he perfectly encapsulates the deep love between a man and a woman. Read the whole poem and try not to tear up.
here is the deepest secret nobody knows
(here is the root of the root and the bud of the bud
and the sky of the sky of a tree called life;which grows
higher than soul can hope or mind can hide)
and this is the wonder that's keeping the stars apart
i carry your heart(i carry it in my heart)
Check out Romper's new video series, Bearing The Motherload, where disagreeing parents from different sides of an issue sit down with a mediator and talk about how to support (and not judge) each other's parenting perspectives. New episodes air Mondays on Facebook.