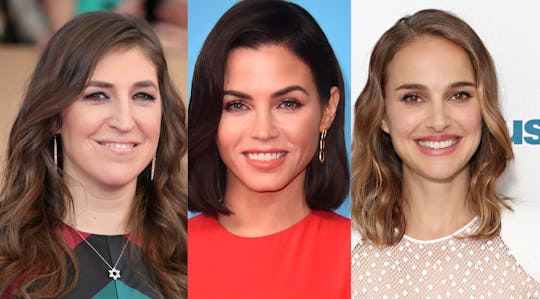 Alberto E. Rodriguez/Getty Images Entertainment/Getty Images, Alberto E. Rodriguez/Getty Images Entertainment/Getty Images, Cindy Ord/Getty Images Entertainment/Getty Images
7 Vegan Celebrity Moms On How Veganism Has Changed Their Lives
If you are passionate about animal welfare, your health, and preserving the environment, going vegan is one of the best things you can do. The vegan lifestyle has been in the spotlight as of late thanks to celebrities and public figures speaking out about veganism. There are also plenty of vegan celebrity moms who have opened up about being vegan while raising children, and it's super interesting to hear the motivation behind their vegan lifestyles.
According to the Vegan Society, veganism is a lifestyle that aims to exclude "all forms of exploitation of, and cruelty to, animals for food, clothing or any other purpose." For most vegans, that means not eating animal products (namely meat, seafood, dairy, and eggs), and not wearing animal products (leather, fur, and wool).
A 2013 study published on the National Center for Biotechnology Information analyzed plant-based diets and their affect on human health. The study determined that those who follow healthy, vegan diets tend to have a lower chance of developing conditions including high cholesterol, heart disease, diabetes, obesity, and high blood pressure. On top of the health benefits, going vegan means you're not contributing to the suffering of animals, the North American Vegetarian Society explained. Plus, animal agriculture aka factory farming is a huge contributor to climate change, according to CNN.
Going vegan involves some research, but it is so rewarding to know that you are not contributing to the torture of animals. So without further ado, here are seven celebrity moms who manage to balance their busy careers, their children, and their vegan lifestyles.
1. Natalie Portman
Actress Natalie Portman has been a vegetarian since she was 9 years old. When she was pregnant with her first child, who was born in 2011, she read Jonathan Safran Foer's book Eating Animals, which convinced her to go vegan, Us Weekly reported. She gave birth to a second child in 2017. Portman went on to narrate the 2018 documentary Eating Animals, which was inspired by the book. In the documentary, she says, according to LAist:
You vote three times a day with your fork. There's a reason that food, and food restrictions, are such a big part of every religion. Because it is a way that you can state what you believe in and what you care about three times a day.
2. Jenna Dewan
Dewan has referred to herself as both a vegetarian and a vegan since being in the spotlight. Her and Channing Tatum are raising their 5-year-old daughter, Everly, as a vegetarian. The dancer and actress opened up about veganism in a 2016 interview with the Los Angeles Times. She told the newspaper that she encourages veganism for the health benefits, the positive environmental impact, and the ethical reasons. She also explained why she first stopped eating meat:
I was a latchkey kid and when I was 10 or 11 I saw a [TV] program on slaughterhouses. I just remember being blown away, utterly traumatized. And I declared the next day that I was never eating meat again. And I didn't — it started then.
3. Mayim Bialik
The Big Bang Theory actress is super passionate about her vegan diet. She told PETA that her two sons (born in 2005 and 2008) are vegan as well. Like Portman, the book Eating Animals made her realize she wanted to go vegan. She said in a video for PETA:
It was really after that book that I had both the education and the confidence and the personal conviction to be able to say, "I don't know where to draw the line anymore. I'm not going to draw it. I'm going to step over the line." And there's been no turning back.
4. Alicia Silverstone
Alicia Silverstone is Clueless no more. The actress has been a dedicated vegan since 1998, according to Female First. She is raising her 7-year-old son, Bear, to be a vegan — but she's not as strict about his diet as she is about hers, she told PeopleTV. Silverstone opened up about why she loves veganism in a feature for PETA about 10 years ago:
Being vegan truly is the secret to my life's joy and peace. I feel physically and spiritually better than I could have ever imagined knowing that I am doing everything I can to reduce animal suffering with simple lifestyle choices like being vegan, never wearing any products made from animals (like wool and leather), and buying only from companies that NEVER test their products or ingredients on animals.
5. Ellen Pompeo
After reading her doctor Dr. Kristi Funk's book Breasts: The Owner's Manual, the Grey's Anatomy star felt inspired. She went vegan pretty much immediately, and quickly got her husband and their three children (who are 1, 3, and 8 years old) on board. She told People this past April:
I don't think it's tricky at all — it's actually easier because meat you have to cook it before it goes bad. Grains and lentils and rice and beans, everything's in the pantry already. You just have to get vegetables, but vegetables stay good for a week — and I think we all feel better.
6. Alanis Morissette
Hey, Alanis Morissette fans, "you oughta know" that Morissette is vegan. The mom of two kids, aged 2 and 7, has been eating a vegan diet for more than a year. She told PETA that she lost 20 pounds in her first year of veganism, adding:
I'm back to what I was born to be, at my best. … I feel very alive. … I have no more aches and pains, and my allergies are gone, too.
7. Emily Deschanel
Bones star Emily Deschanel is a mom to two boys, aged 3 and almost 7 years old. She is a big advocate for animal welfare, and she has starred in videos for PETA to promote the cause. In a 2015 interview with Garden of Life, she opened up about her husband and kids' diets. She told the outlet:
They are not 100 percent vegan, and neither is my husband. The kids are about 99 percent vegan, and that's because I let them eat eggs occasionally with their dad. I think it's a great way to feed your babies. Henry loves veggies, and he's totally into it.
It's clear that veganism has had a variety of positive impacts on these seven celebrity mamas. If you want to learn more about parenting a vegan child, PETA has a ton of information.