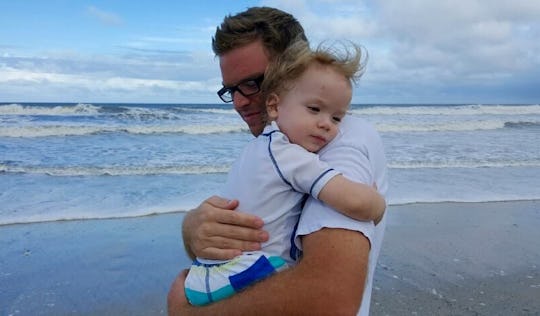 Courtesy of Sarah Bunton
7 Ways Being A Good Dad Is The Sexiest Thing A Man Can Do
Thanks to the term "Dad Bod" and photos of male celebs rocking a baby carrier, being a father has become the hottest new trend. Back in your grandparents' day, it was totally acceptable for a man to leave all the parenting duties to the mother and not much was said about that. But today, with gender equality remaining a hot button issue, being a good dad is the sexiest thing a man can do.
Maybe evolution made fatherhood appealing or perhaps there's just something hardwired in a woman's DNA to respond positively towards a man doing an above average job as a parent, but regardless of the reason, it's undeniable that a good father is attractive.
Haven't you ever sat around with your friends, kids playing in the background, and jokingly fantasized about the "perfect man" and what he'd be like? Is it years of reading Cosmopolitan articles or watching hours of rom-coms that have programmed women to instinctively say, "Awww!" when they see a man being a fantastic father?
If you've ever wondered these things yourself, then check out some of the top reasons why being a good dad is hands down the sexiest thing a man can do.