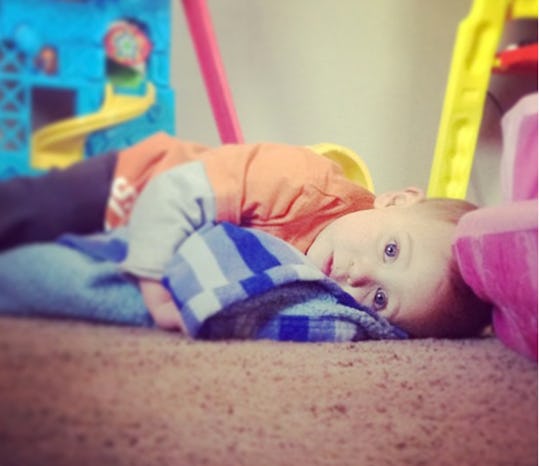 Courtesy of Candace Ganger
7 Ways Our Rainbow Baby Brought My Partner & I Closer Together 
Before I had my rainbow baby, my partner and I struggled to stay afloat. After two miscarriages, infertility issues, and life as parents to our daughter, communication had become a rarity. And romance? Nearly non-existent. On the verge of separation, we seemed to be moving in two different directions and despite the deep love we had for one another, we were sinking. Then something changed when I found out I was pregnant with my son. In fact, there's more than a few ways our rainbow baby brought my partner and I together. Honestly, without him I don't think we'd have made it.
Having a "rainbow" baby means bringing life into the world after miscarriage or infant loss. During those days before I found out I was pregnant with my son, I never thought I could carry to term again. All that wishing and hoping took its toll, and I was negatively affected as the mother to my daughter, a partner to my husband, and simply as a human being at war with her own body. I couldn't help it, but the losses defined me and the inability to have another baby haunted me. Before I was pregnant with my son and after my first loss in 2009, there was a short period when my husband and I were so close. In fact, we even renewed our wedding vows. It was the closest we'd ever been and I'd never felt happier. It didn't last, though, and that period of closeness was followed by a dark time when I thought, for the first time ever, that we were going to be over if something didn't change soon.
I blamed my body and myself for all the things it'd done (and not done). I shut my partner out and was fully prepared to go through the rest of my life internally isolated. We tried couples' therapy and, after the first session, I felt even more alone. Something I thought might help, didn't, and all of our problems still overwhelmed our relationship. "What now?" was the only question I could bring myself to ask myself, my partner, or anyone who would listen.
Then, when I was finally pregnant with our rainbow baby, all those issues that divided us somehow mended themselves. We communicated more, fought less, and came together for the sake of our daughter and soon-to-be son. Maybe it was because I let my guard down long enough to be close to my partner again, or maybe we'd just hit peak timing in our relationship. Regardless of any one reason, I know our rainbow baby had a lot to do with connecting us at a time we were so very disconnected.