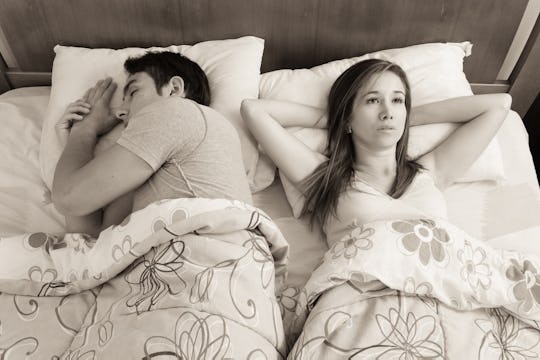 Fotos 593/Fotolia
7 Ways Sleep Deprivation Affects Your Sex Life
When it comes to spicing up your sex life, sometimes the best thing you can do in bed is sleep. Because there are many ways sleep deprivation affects your sex life, getting enough shuteye each night is a higher priority. Sleep is free, after all, and few things can make you feel better than getting enough of it.
It's easy for chronic sleep deprivation to become a habit. With a world that runs 24/7 and the immense pressure to be "on" almost all of the time, it can be tempting to forego some shuteye in favor of knocking off a couple more items of your to-do list. Fortunately, there are ways to determine how much sleep you actually need each night so you can make sleeping enough a higher concern. Because coffee can only compensate for so much, especially where your libido is concerned.
Sleep deprivation can affect almost every aspect of your sex life, from your hormone levels to your sense of emotional well-being in the relationship. Not surprisingly, being constantly sleepy can wreck havoc on your general desire and libido. So if you need any more reasons to go to bed on time tonight, here are the many ways going without enough sleep can totally mess with your sex life.