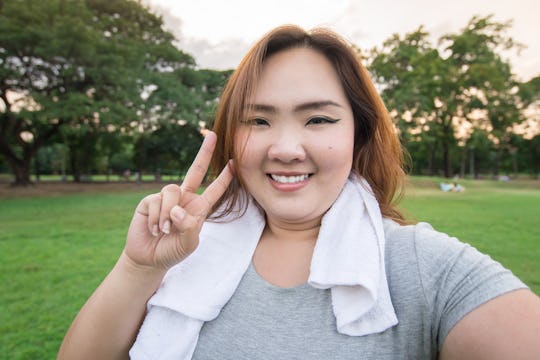 7 Ways To Be More Body Positive In One Day, Because Self-Love Starts With A Simple Step
Body positivity can be one of the hardest habits to practice. Regardless of what kind of home you come from or how hard your parents worked to give you a health self-image, women are under a lot of pressure to look a certain way. It takes a lot someone to hear all the negative comments from society and peers, and still love their physical form. And on way to push away the negativity is to test out a few ways to feel more body-positive in one day.
As the mother of two amazing daughters, and as a woman myself, it's important to encourage body positivity. But in can be challenging to retain a feeling of self-worth about your body when you're greeted with oversized breasts stuffed into lingerie and perfectly glossed skin around every corner of the street and the Internet.
Being body positivity is a process, so don't get down on yourself if you have a day where you seriously feel like you'd get a boob job if someone would just pay for it. The point isn't to pretend you are a towering ideal of body esteem, but rather to keep your self-worth in mind in your everyday life. Here are seven little ways to be more body positive each and every day, and to teach others to feel the same.