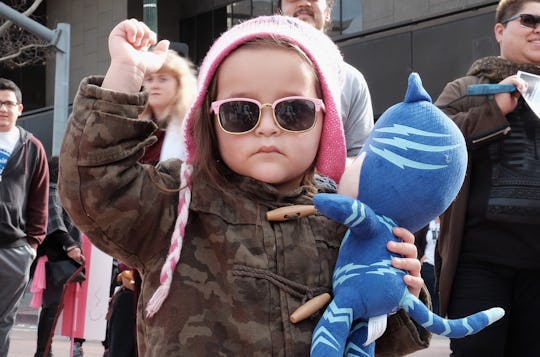 Sarah Morris/Getty Images News/Getty Images
7 Ways Kids Can Celebrate Women's History Month
Women's History Month is soon approaching and it's a great way to celebrate the many accomplishments of women in American history. It's a time of reflection on how far women have come, and it's also a time to look at how far women still need to go. Involving sons and daughters into the celebrations only furthers the message that contributions of women are important and imperative to the success of the country. There are several ways to celebrate Women's History Month with your child, that can be age appropriate and fun at the same time (no snooze-worthy history lessons here).
Women's History Month starts the first day of March, and ends on the last day of the month. And, unfortunately, most public schools didn't even cover the accomplishments and achievements of women pioneers until recently, according to TIME For Kids. Information and background about these women wasn't discussed, nor was it built into the curriculum. The celebration of women started as just one day, then it expanded to a week, and then congress in the late '80s declared the whole month of March National Women's History Month.
Many schools across the U.S. probably do a bang up job of teaching and celebrating the achievements of women, but a little supplementation at home couldn't hurt. Teaching and involving your kids will further the message in your family that women are important, and recognizing them is important. (I promise there are ways to do it that won't cause them to audibly groan). Here are seven ways to get kids of all ages involved in celebrating WHM.