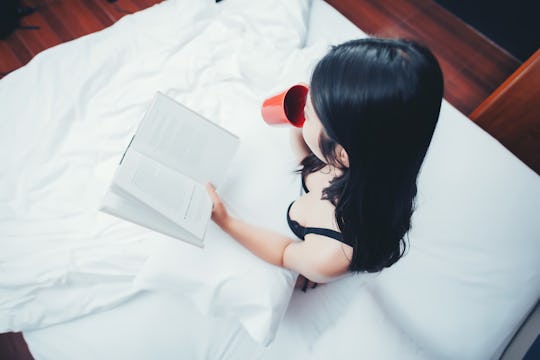 Shutterstock
7 Ways To Get Turned On Fast, Like Super Fast
Obligations, fatigue, or an inability to "switch gears" at the end of the day can make sex the last thing you feel like doing. But there are ways to get turned on quickly that will put you in the right headspace for sex, if that's where you're trying to be. Whether you're gearing up for some fun with a partner or just some much-needed solo time, it doesn't have to take all day to get in the mood.
The first thing to keep in mind when trying to get in the mood is to avoid putting pressure on yourself to feel a certain way. "Give yourself time and cut yourself some slack. Don't expect to be spontaneously aroused without some build up," Dr. Rachel Needle, a licensed psychologist in West Palm Beach, Florida and co-director of Modern Sex Therapy Institutes, tells Romper via email.
In addition, it's easier to get in the mood quickly when you already have a solid idea of what turns you on. "Figure out what you like," Dr. Ashley Grinonneau-Denton, Ph.D., AASECT CSTS, co-director of the Ohio Center for Relationship & Sexual Health, tells Romper via email. "I find that erotic scripts in people can coincide with their preferred learning styles." For instance, visual learners might enjoy watching their partner do a striptease, whereas auditory learners may be into dirty talk. Experiment with your partner (or do some exploring on your own) to learn more about what you like.
Taking a few minutes to relax, let your mind wander, and even just fantasize can mean the difference between "I'm just not feeling it" and "Let's go!" Some of these ideas involve the senses (such as a warm shower or a great-smelling candle), while others require nothing more than the power of your own mind. Basically, going from 0 to 60 doesn't have to be an impossible task. And hey, if you're motivated enough to even want to get turned on, then you're already halfway there.