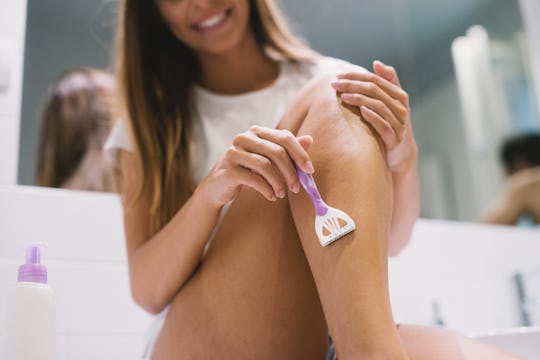 dusanpetkovic1/Fotolia
7 Ways To Prevent Ingrown Hairs, Because Those Suckers Are Annoying
As far as general annoyances are concerned, ingrown hairs are pretty high up the list. After all, they're bound to develop at the worst possible time, like when you're about to go on a beach vacation. So learning about the ways to prevent ingrown hairs now can save you a lot of irritation in the future.
First, it's helpful to understand a little more about ingrown hairs and what causes them. When a hair curls back into the hair follicle and grows into a person's skin, it creates what is known as an ingrown hair, according to WebMD. This often results in a red, irritated bump on the skin that resembles a pimple. And, yes, sometimes they hurt.
Although they are most common in people with curly hair, anyone can get an ingrown hair, as further noted in WebMD. They will often go away on their own, but sometimes a doctor's help is needed to remove a particularly bothersome or infected one. Oh, and in the wake of Dr. Pimple Popper's popularity, there are tons of ingrown hair removal videos on YouTube. (Only consider watching these if you have a very strong stomach.)
In general, ingrown hairs are just a nuisance for most people, but one that is best avoided. Here are a few key ways to stop those annoying blemishes from forming in the first place.