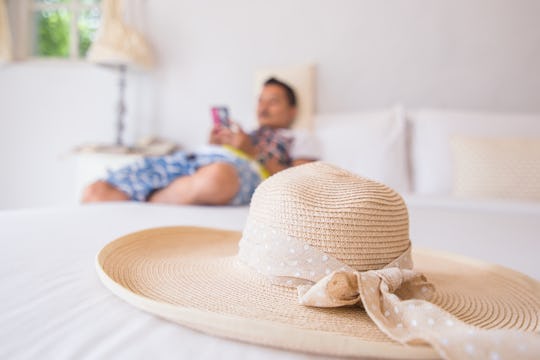 Shutterstock
7 Ways To Tell If Your Partner Is At Risk Of Emotional Infidelity
Even if your partner never physically cheated on you with someone else, that doesn't necessarily mean that they have been completely faithful to you and your relationship. Emotional infidelity can be just as hurtful and devastating as a physical affair. Some people even think that it emotional infidelity is a bigger betrayal than a one-off physical incident. And though you might feel blind-sided by cheating, there are some ways to tell if your partner is at risk of emotional infidelity that might help you recognize that something could be going on in your relationship without you even knowing that it is.
Emotional infidelity feels like such a terrible betrayal because being emotionally vulnerable can be really, really difficult for people. In some cases, feeling emotionally vulnerable might make you feel more exposed than when you're physically intimate. If your partner exhibits some of the signs that they might be at risk of emotional infidelity, there are a few things that you can do. But you might first need to have a conversation with them (and potentially recruit a therapist to weigh in as well) about how these actions are making you feel.
"It's always a good idea to understand red flags, and allergies to emotion, and not respond angrily and assume that your partner doesn't love you or care about you," Dr. Claudia Luiz, PsyaD, a psychoanalyst and author, tells Romper by email. "We can move quickly to feeling unloved when we see red flags and allergies to emotions. Instead, gentleness, softness, and care is required to keep the words flowing. Communication, exploration, and growth are in order. We are here not always to solve, but to evolve. Get help if communication stalls, and find a therapist who can help you get connected through the difficulties."
Just because you recognize some of these signs doesn't necessarily mean that your partner is being emotionally unfaithful, but knowing which signs might indicate that they're at a higher risk could help spur you to take action if need be.