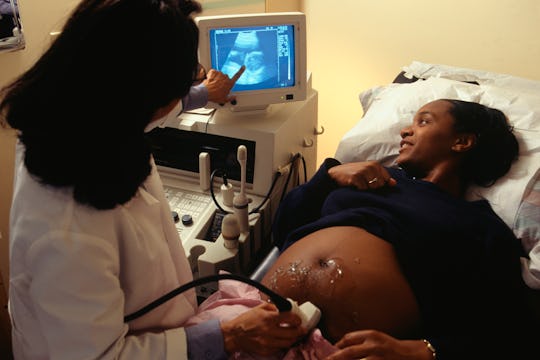 Keith Brofsky/Getty Images
7 Ways To Tell Your Pregnancy Is Going Well, According To Experts
If you're anything like me, pregnancy is 40 weeks (more or less) of excitement, anticipation, and joy, but also stress, anxiety, and constant concern. Like many expecting parents, I loved the ability to listen to my baby's heartbeat, or my doctor's reassuring voice, during prenatal appointments. Those visits were few and far between, though. I'd constantly be asking myself, "Is my pregnancy is going well?" (especially on the days, and weeks, when visiting my OB-GYN wasn't an option). The good news is that while pregnancy is uncertain, and it's natural to worry, there are ways to check your progress.
Monitoring your pregnancy is the main reason for all of the prenatal tests and exams recommended throughout your pregnancy, according to the American Congress of Obstetricians and Gynecologists (ACOG). And What to Expect adds that some pregnant people decide to do genetic screenings and tests — including non-invasive prenatal testing like blood tests and a special ultrasound called a nuchal translucency screening — and further diagnostic tests — like chorionic villus sampling (CVS) or amniocentesis —to obtain as much information about the fetus as possible.
For some moms-to-be, the time between appointments, or even before that first appointment, can be nerve-wracking. But if you're experiencing pregnancy symptoms during this time — like nausea and vomiting — that could be a good sign. A 2016 National Institutes of Health study published in JAMA Internal Medicine found that morning sickness is "associated with a lower risk of miscarriage in pregnant women." And if you're later in pregnancy and seeking a little peace of mind, public health organization Count the Kicks recommends paying attention to the rhythm of your baby's kicks and movements during your third trimester, by tracking how often your baby kicks and letting your doctor know about any changes. "Later in the pregnancy, feeling fetal movements frequently is also a sign of wellbeing," Lucky Sekhon M.D., fertility specialist and board certified OB-GYN, tells Romper via email.
No matter how far along you are in your pregnancy, it's pretty typical to worry. Fortunately, however, if you know where to look you can gain some reassurance by paying attention to the following signs:
This article was originally published on