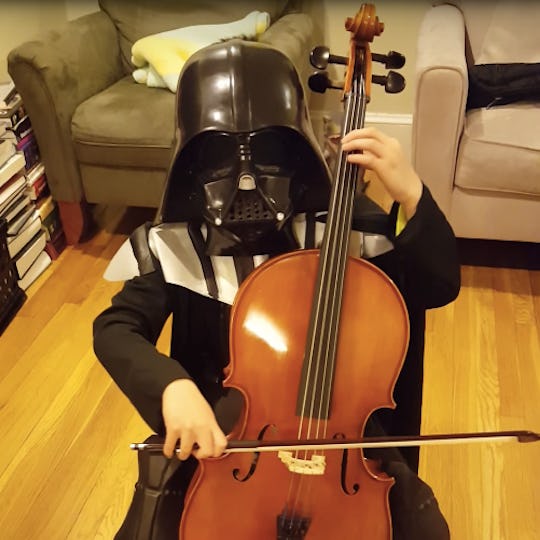 7-Year-Old Dressed As Darth Vader Plays His Own Theme Song On The Cello, And 8 Other Kids Who Are Clearly Ready For 'The Force Awakens'
After years of assuming the Star Wars franchise was unsalvageable, we have been given reason to hope. The The Force Awakens trailers are actually really spectacular and, let's face it, we're all pretty damn excited for December 18 to arrive. Some of us appear to be more excited than others, as you can see in this adorable video of the best junior Star Wars fan ever. Seriously, musical talent and geekery, all in a sweet 7-year-old package? Future viral in the making, guys, it's got everything!
As with every new Star Wars movie that gets released, the fan geekery gets pretty crazy. It's pretty cute to see kids who have grown up only seeing the old movies at home get super excited about seeing a new movie in the theater. And who can blame them? There's really nothing better, especially if you fast forward past any parts involving Jar Jar Binks!
So whether it's a geeky fan who happens to be a parent dressing their kid up in a movie-perfect costume, or inspired preteens who are living the dream of having a real lightsaber fight, here's to the next generation of Star Wars fans. We're seriously loving the show you're putting on for us all. 
Here's the little Vader playing his cello:
Check out all these other young Star Wars superfans.