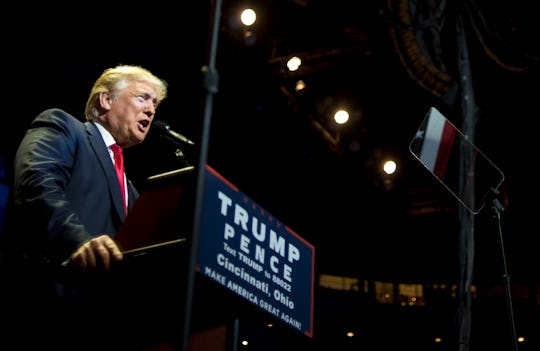 Ty Wright/Getty Images News/Getty Images
700 Christian Women Write A Powerful Letter To Donald Trump, & It's A Must-Read
The Republican presidential nominee's questionable words about women drew criticism from more than 700 Christian leaders. Hundreds of Christian women wrote a letter to Donald Trump expressing their anger at comments he made on a hot mic while preparing to tape a segment for Access Hollywood in 2005, according to The Huffington Post. The letter's signers ask both Trump and the faith community to set a strong example for children by speaking out against Trump's language.
After the footage debuted, Trump did release a statement about the Access Hollywood tape on his campaign website:
This was locker room banter, a private conversation that took place many years ago. Bill Clinton has said far worse to me on the golf course - not even close. I apologize if anyone was offended.
A video statement from Trump released Saturday also addressed the incident, according to The New York Times. In it, he said, "Anyone who knows me knows these words don't reflect who I am. I said it, I was wrong, and I apologize." But for many in the Christian community, Trump's apology didn't go far enough.
Washington, D.C.-based strategy center Faith in Public Life drafted a letter responding to Trump's language, The Huffington Post reported. On Wednesday, the organization tweeted a link to a form containing the full text of the letter from Christian women about Trump's behavior and invited members of the clergy and lay leaders to add their support. They asked that those who agreed with the message to offer to speak at a press conference, share the letter to social media, or take other steps to ensure the message reached the widest number of readers possible. With 700 signatures, the letter offers a significant indictment of Trump's words and calls on faith leaders to play a major role in calling for greater respect for women.
The letter from Christian women opens by expressing signers' dismay at "Trump's recorded remarks that disparage women and condone sexual assault," according to a PDF shared by The Huffington Post. They argue that Trump's characterization of the words as "locker room talk" isn't acceptable and ask for a full and sincere apology from Trump reflective of "the seriousness and depravity of his actions." The signers go on to write that "the sin of misogyny" often fuels sexual assault and works against women's safety; they suggest that it is irresponsible for faith leaders to dismiss or downplay Trump's words because, in doing so, they make it seem permissible.
The letter concludes by asking leaders of the faith community "to preach, teach and help their communities heal from the twin sins of sexual violence and misogyny." The signers write that this is a critical teaching moment for young people and all Americans in that Trump's words opened up an important dialogue about the need to "speak out against sexually violent language."
The lead signer of the letter is Rev. Jennifer Butler, CEO of Faith in Public Life; she currently chairs the White House Council on Faith and Neighborhood Partnerships, according to her biography on the Faith and Public Life website. She and her husband run the Iona Conversations Christian community in Washington, D.C. But this week, she's helping to coordinate a national conversation among Christian women.