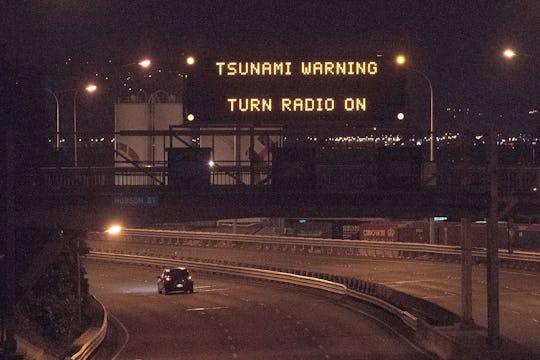 MARTY MELVILLE/AFP/Getty Images
7.8 Magnitude New Zealand Earthquake Triggers Tsunami Warning
Across the world, a very large disaster has occurred. While political unrest may be occurring in droves in the United States, a much larger natural disaster has struck New Zealand, causing damage to the country. As residents recover, the news is not so uplifting — the 7.8 magnitude earthquake that struck New Zealand this weekend triggered a tsunami warning, sending people into a panic.
According to ABC News, the earthquake struck land around 50 miles northeast of Christchurch, on the eastern seaboard of New Zealand's South Island, around midnight. While the initial quake was massive, the aftershocks have caused more fears — according to CNN, three aftershocks hit the island in the hours following, the biggest with a magnitude of 6.2. According to USA Today, the earthquake itself had a relatively shallow depth — meaning it was strongly felt on the surface.
Earthquakes are common in New Zealand — the country is "regularly hit by earthquakes," according to CNN. This is due to its location in the the ring of fire — an area in the Pacific Ocean where seismic activity regularly occurs. However, New Zealand residents are understandably shaken up by this large magnitude earthquake. That is because New Zealand has been devastated by large earthquakes in the past — and might suffer from an even larger natural disaster, a massive tsunami, because of the one that struck near Christchurch this week.
According to the BBC, the tsunami threat is still present, despite waves not being very tall at the moment — according to The Independent, the coast has seen waves just over two meters high. And although the reported waves have been a bit on the smaller side, tsunami threats typically last for at least a few hours, and the danger could still grow.
Residents this weekend were warned to take shelter inland, according to the BBC. And according to New Zealand's emergency disaster update account, the entire coastline of New Zealand is at risk of being hit by a wave.
However, according to CBS News, the scope and size of the tsunami is not yet clear — and might not be clear until the damage has been done and the threat of the tsunami is over. According to The Associated Press, only minor damage has been reported in the city of Wellington, New Zealand and there have been no immediate reports of damage or injuries from the earthquake. This is a relief compared to the last major earthquake to hit New Zealand. According to CNN, Christchurch, New Zealand was devastated by a much smaller magnitude earthquake in 2011 which killed 185 people and injured scores more.