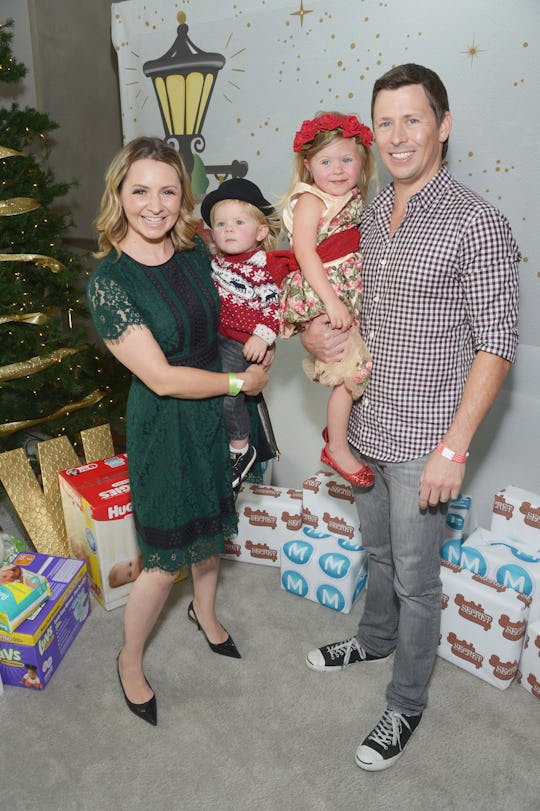 Matt Winkelmeyer/Getty Images Entertainment/Getty Images
'7th Heaven's Beverley Mitchell Is Against Having Nannies, & That's Her Personal Choice
Having grown up in front of the camera with a ton of fictional siblings, it's not surprising that this actress is totally comfortable ruling the roost at home now that she has a family of her own. 7th Heaven's Beverley Mitchell is against having nannies, and her strategy for avoiding hired help with childcare is admirable.
Most people remember Mitchell, 35, from her role as Lucy Camden on 7th Heaven back in the 1990s. Mitchell starred on the show for its entire 11-season run, starting when she was just 15. Not only did she grow up in front of the camera, but so did her fellow young actors who played her siblings, including Jessica Biel and Barry Watson. Mitchell is actually still close friends with Biel, and told US Weekly that her children have play dates with Biel and Justin Timberlake's kids: "It's always fun when your best friend has a baby around the same age. It's fun to be able to share the adventures together."
Mitchell has two children with her husband, Michael Cameron, who she married back in 2008. Unlike Biel and Timberlake's superstar union, Mitchell didn't marry a fellow actor: Cameron is an accountant, according to People. Their first child, a daughter name Kenzie, was born in 2013 and their son Hutton was born in 2015.
It's not unusual for celebrities to have nannies to help out with childcare — they've been doing it since the old Hollywood days. Given their long days on the set, traveling to shoot movies, and trying to catch flights for events between LA, New York, and London, it certainly presents challenges for raising a family. Even if you don't have to hit the red carpet or fly around the world for a movie, hiring someone to help out with childcare isn't that uncommon amongst non-celebrities, either: the job growth outlook for childcare workers is expected to rise 5 percent over the next decade, according to the Bureau of Labor Statistics.
Of course, many nannies or au pairs are hired privately, especially by the rich and famous who require anonymity and protection from the paparazzi in their job postings for childcare help.
But Mitchell's reasons for forgoing hired help is actually pretty simple: she has a lot of help from her husband. She told People that the couple switches off on childcare duties depending on who is working: a privilege that many couples, celebrity or not, may not be able to manage. But, thus far, it seems to have worked for Mitchell and Cameron.
It's just us and the kids. Family is the priority. I really don't think I want to pay someone else to get to have the time with my kids. I want that time.
Given the time of year, People also naturally asked Mitchell about her family's holiday plans. Mitchell said the family travels to Colorado for a holiday in the cozy mountains with her husband's family — and traveling with two kids under 5 is always an adventure, but one she and Cameron seem to manage. She also admitted her most pressing parenting dilemma to People, one that many moms are probably totally familiar with:
I love his [her son, Hutton] hair too much. I can't cut it. Maybe at some point I'll have to, but it's not now. Talk to me next year and we'll see. His hair will be as long as it can be. But [it's] funny, everywhere I go, everyone is like, 'Oh, what a beautiful little girl,' and I don't even correct anybody anymore. I'm like, 'Whatever.'
As she told People, Mitchell's secret to balancing work and motherhood really comes down to staying organized and having a supportive partner: "I've got an awesome husband and he lets me do what I do, which is amazing," she told People. It probably also helps that her kids get along really well — although, now that they're getting a little older, Mitchell does have one worry on her mind: "She loves to play with him, even though she's a little rough with him. So I fear the day that he realizes that he's so strong that he can take her out."
Mitchell shouldn't worry too much, though: after having four fictional brothers on 7th Heaven, she can probably give her daughter plenty of good advice about standing up for herself.