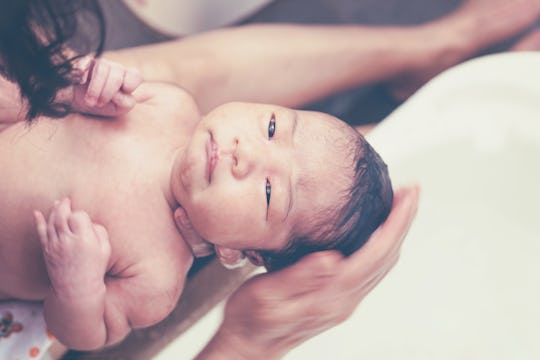 tortoon/Fotolia
8 Baby-Bathing Hacks, Because Cleaning Your Kid Is Hard
by Kelly Mullen-McWilliams
Bath time is a key ingredient in many a parent's bedtime routine, but I'll be honest — bathing a baby is trickier than it seems. For newborns, there's the sheer panic of placing them in a very real (albeit small) body of water. With older babies, there's a thrash-and-squirm factor that makes bath time messy, to say the least. And toddlers, well — they're toddlers. Sometimes they don't want to take a bath. Other times, they don't want to get out. What gives, and what kind of baby-bathing hacks can make the whole process easier?
From making sure the water is the right temperature to choosing non-irritating soaps and lotions, attacking baby-bathing with a strong strategy in place will help you out immensely. Gathering supplies in advance is one easy hack — it's just easier, not to mention safer, to have the soap, bubbles, lotion, and towel laid out and ready to go. But wait, there's more.
Newborn Care Specialist Ruby Sibal of Beyond Baby Care believes bath time should be quality bonding time, for baby and the parents, and walks you step-by-step through newborn facials and shampoos. Romper collected these eight baby-bathing hacks, including a few tips for toddlers, because bath time should be as smooth and easy as that yellow rubber ducky. Wait, where's that rubber ducky? You know you can't have bath time without him!