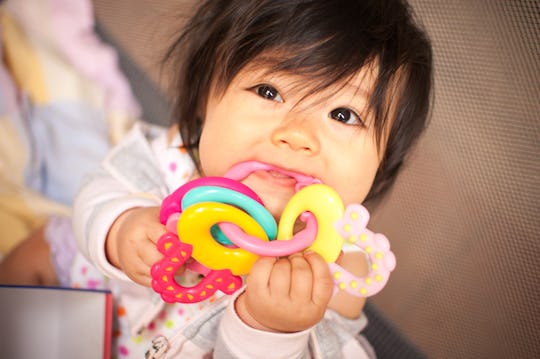 bradleyhebdon/E+/Getty Images
8 Baby Items To Disinfect While You're Making Your Cleaning List
Babies are a lot of things (Cute! Funny! Snuggly!), but hygienic isn't one of them. They can't wash their hands or clean themselves, they put their mouths on literally everything, and they have no concept of any five second rule. Basically, everything they touch is going to get full of germs fast — and it's your job to keep everything clean. While some items will be OK for a bit, certain baby items should be disinfected on a regular basis — as in a few times a week or even every day.
Between the end of cold and flu season and the coronavirus pandemic, this is especially important right now. In an email interview, Florida-based pediatrician Dr. Gary Kramer explains to Romper exactly why: "Although germs have a finite survival time on inanimate surfaces, it is important to routinely clean things. Most respiratory infections are spread through respiratory droplets, and as such are transmitted via coughing, sneezing, and exchanges of oral and nasal secretions." Basically, you could infect something without even realizing it, whether your baby has dropped it or not.
Aside from regularly cleaning baby items, you should focus on washing their hands and washing your own hands throughout the day (and don't feel awkward asking anyone who holds your baby to wash their hands too). "Most gastrointestinal infections are spread via fecal-oral transmission, and thus minimizing exchange of saliva and engaging in hand hygiene are especially important," explains Dr. Kramer.
That said, you shouldn't stress over this too much. "I always encourage patients to be cautious, not paranoid," says Dr. Kramer. "There are enough things that we cannot control, so at least we should make an effort to control the things within our reach." Basically, you'll never be able to keep every single itty bitty germ and bacteria away from your little one, but you can definitely do your best to keep their closest possessions as sparkling clean as possible. Here are the items you should definitely focus on: