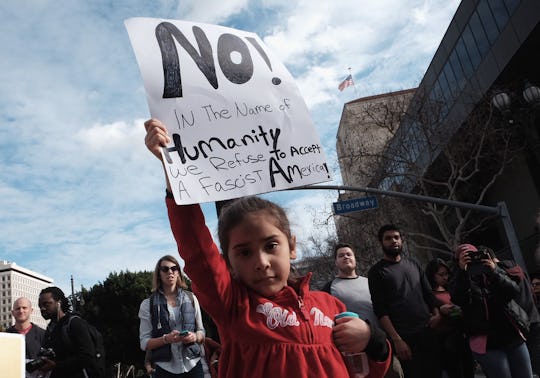 Sarah Morris/Getty Images News/Getty Images
8 Clues You're Raising A Future Activist
With so many stories about intolerance and hate dominating the news cycle, parents have started attending protests with their child in tow. Making your voice heard is also a learning opportunity; a chance to prove there is still some good in the world and how children can learn to contribute to it. So parents shouldn't be caught off guard if, after attending a protest, they notice a few subtle clues their child is a future activist.
Being an activist doesn't always have to mean marching in the streets and protesting outside of building, which can be a scary endeavor for some parents. There are things your family can do that may seem small but can make a huge impact on helping to make the world a better place for future generations. One of the best ways to promote activism in your children is to lead by your own example. Teach your children to respect other's differences, aid those who are less fortunate, and use their voice to help those who can't always speak for themselves.
If you're doing any of the things on this list, good for you. If not, there's no better time than right now to start with some age-appropriate lessons that will help your children make the world a better place.