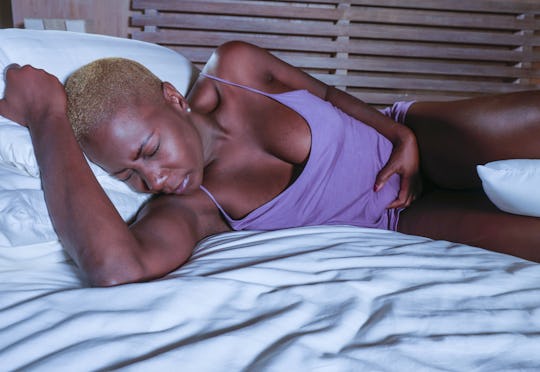 TheVisualsYouNeed/Fotolia
8 Common Myths About Endometriosis That Make It Easy To Dismiss Your Pain
My whole life I've had incredibly painful periods. A few times per month, the pain gets so bad that I am doubled over with it. I get nauseated, achy, bloated — the pain radiates around my body like a demonic ping pong ball. I remember very distinctly being told by my gym teacher that I was just faking the pain to get out of gym class, even after I'd had to run to the bathroom to throw up because it became so overwhelming. But I'm not alone in this experience. There are so many common misconceptions about endometriosis that affect the lives of those who suffer each and every day. Beyond that, I've learned that many people don't know what to look for or how it might present, so it is preventing them from getting the assistance they need.
According to the Mayo Clinic, endometriosis is "an often painful disorder in which tissue that normally lines the inside of your uterus — the endometrium — grows outside your uterus." One of the biggest misconceptions about endometriosis according to Dr. Sheryl Ross, OB-GYN, is that it's a disease that only exists in older women, when in fact, it can happen to teenagers and people in their 20s. Another big misconception is that having endometriosis automatically means you'll never be able to have kids.
"Women are still being told [that] young women don't get it, if you have it, you can't conceive (but if you have a baby that will 'fix' you), that it always comes back," Heather Guidone, Program Director, Center for Endometriosis Care shared with Romper. "None of this is true."
And, unfortunately, those aren't the only misconceptions.