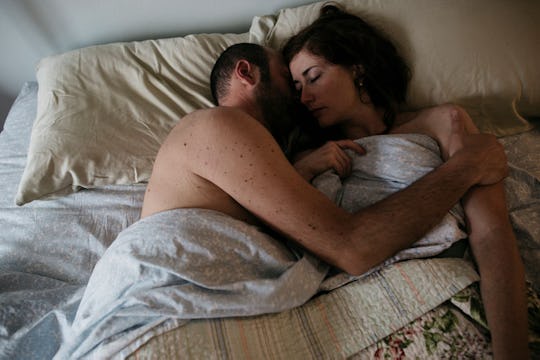 Beatrix Boros/Stocksy
8 Conversations You Shouldn't Have With Your Partner First Thing In The Morning
Launching into a difficult conversation first thing in the morning is nobody's idea of a good time. But in some relationships, these driving issues never seem to take a break. For the most part, if you have these red-flag conversations right after waking up, you and your partner may not be built to last. Really, someone who causes this much grief before you've even finished the first cup of coffee is seriously concerning.
Of course no relationship is perfect — there are bound to be some mornings when it seems like at least one of you woke up on the totally wrong side of the bed, but it's not the type of thing that should be happening every day. Because mornings in general can be stressful enough on their own, it's a rough time for potential relationship issues to crop up. Chances are, you just want to brush your teeth and get on with whatever is on tap for the day. So if someone dishes out some unkind words to their partner first thing in the AM, the person receiving those words may not be in the best headspace to hear them. And to be honest, who want to stay with someone who is constantly bringing them down at the start of each day?
That said, it can be difficult to know what sorts of conversations are normal, and what really signifies a potential problem with the relationship. Each person, relationship dynamic, and individual's history is different, so there are no topics that are universally hands off. However, these are some topics that should be saved for a time in the day when both parties can address them reasonably and are not feeling like they're being bombarded and caught off guard. If your partner is consistently trying to rock the emotional boat moments after you wake up, have a conversation with them about how that makes you feel or seek counseling. And if neither of those seem to resolve the problem, it may be time to part ways.