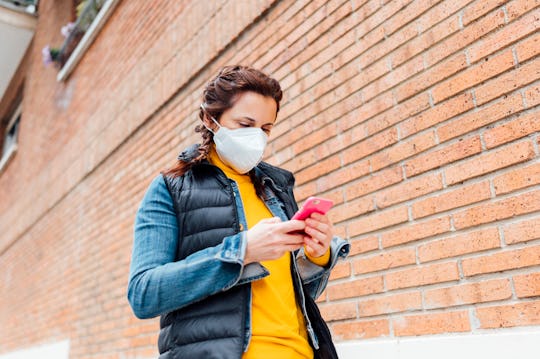 Westend61/Westend61/Getty Images
Here Are 8 Face Masks You Can Go Ahead And Add To Your Walmart Order
As states slowly ease stay-at-home orders and the prospect of going somewhere other than the grocery store becomes a reality, it's a good time to invest in a quality face mask. Your makeshift bandanna mask was great for the occasional trip out, but there are so many quality face masks at Walmart that are durable and reusable. It just makes sense to pick one up now, because as more people start going out that means more people need to be protected (and more masks selling out).
In the early days of the pandemic, there was mixed messaging about the use of face masks in stopping the spread of the virus. Now that experts know more, the Centers for Disease Control (CDC) recommends wearing a mask because while covering your face won't protect you from someone else, it will stop you from spreading the virus if you have it and are asymptomatic. While experts still aren't 100% sure how the virus is transmitted, it's thought to be spread "between people who are in close contact with one another (within about 6 feet)," according to the CDC, "through respiratory droplets produced when an infected person coughs, sneezes, or talks." Wearing a mask is one of the best ways to help stop that from happening.
Thankfully, there are a lot of great face mask options available (that don't require you to sew them yourself) which meet the CDC's criteria for proper protection. Here are 8 options from Walmart that you can go ahead and add to the online order you probably already have started.
We only include products that have been independently selected by Romper's editorial team. However, we may receive a portion of sales if you purchase a product through a link in this article.