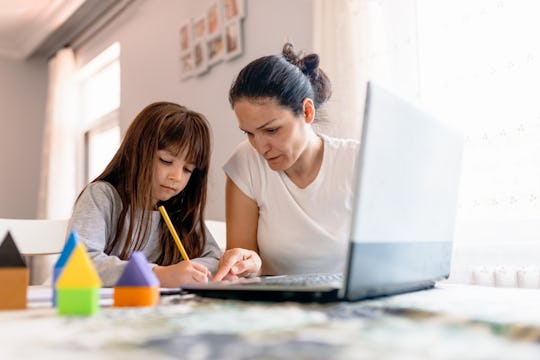 Phynart Studio/E+/Getty Images
These 8 Free Online Arithmetic Courses Will Keep Your Kid's Skills Sharp
Managing your children's education from home is a daunting task to say the least. On top of everything else, you're responsible for assigning math homework, too? Fortunately, there are plenty of free online arithmetic courses available to help out. Because really, it's been a hot minute since the last time you had to subtract 78 from 100 and show all your work.
And really, it's OK if you need some additional resources when teaching your younger kid about math. Understanding basic arithmetic is one thing, sure, but explaining it to your child in an approachable way is a whole other ballgame. (Just try taking on some subtraction problems with a Kindergartner and see how quickly the conversation turns to their favorite episode of Doc McStuffins, or Hatchimals, or literally anything else.) Thankfully, these courses explain mathematical concepts in kid-friendly terms. So although younger kids may need your guidance navigating the online courses, the lessons themselves should help explain these foundational mathematical concepts in a way that kids can understand. Even the youngest arithmeticians can catch on in no time.
Again, continuing your kid's education during the school shutdowns can be a rough experience, particularly if you're also balancing additional child care, work, or family duties at this time (all while practicing social distancing and masking and everything else). It's a lot. So use these free academic resources to help your kid learn math while you're homeschooling.