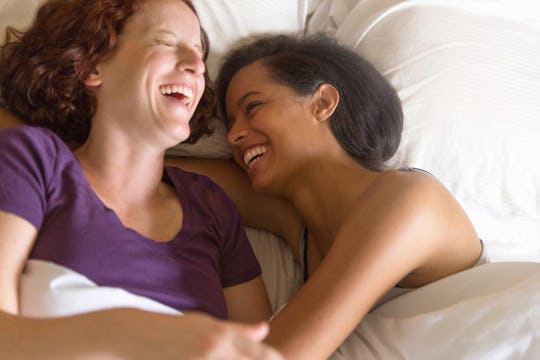 Image Source Trading Ltd/Shutterstock
8 Habits Of Sexually Satisfied Couples, According To A Professional
Sex is a journey when you're single and when you're part of a couple. Relationships change, transform, grow, go up, and go down throughout the course of many years. People transition, change, and grow personally as well. What you liked two years ago sexually (and otherwise) is probably not what you like now. Even with all of these constant progressions and changes we go through in life, there are things we can all do to maintain a happy sex life. In fact, there are several habits of sexually satisfied couples that professionals beleive improve intimacy, connection, and pleasure.
I've been having sex with the same person for almost 12 years. In our "drunk in love" phase, pulling out pony tricks galore was the norm. Fast forward to marriage, two kids later, and full time jobs I'd say things have changed quite a bit for us. Are we the stereotypical boring married couple who has no sex? No, not now. Were we at one point? Absolutely. Having babies was a total libido killer for me. Reaching a satisfying sex life again that both of us were happy with took communication and actual sex strategies that we practiced along the way (and continue to).
In an effort to focus on some of the most touted tips and techniques of sexually satisfied couples, I spoke to sexperts, marriage therapists, and an online sex toy shop owner. All had unique perspectives about how to help couples navigate their sexual well-being and happiness. Here are eight things that they beleive sexually fulfilled people practice.