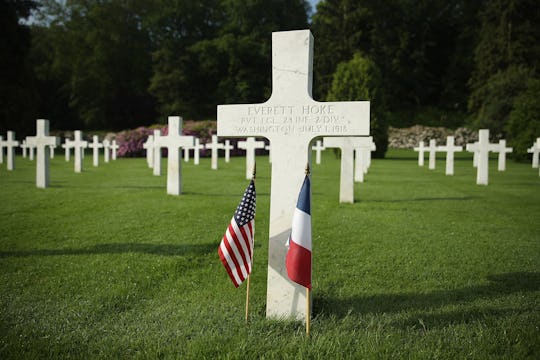 Sean Gallup/Getty Images News/Getty Images
8 Memorial Day Prayers To Remember Lives That Were Lost
It seems like we blinked once and spring is upon us — temperatures are beginning to heat up, graduates are walking the stage, and suddenly we're rounding the corner of the last weekend in May. That date on the calendar, of course, can only mean one thing: Memorial Day is this Monday. While the holiday is widely appreciated for providing a long weekend right when we're starting to get the summer twitch, the real meaning of the day is much deeper. For those looking to thoughtfully commemorate the lives of fallen military veterans, Memorial Day prayers can be a meaningful addition to your observance plans.
The origins of Memorial Day — an exclusively American holiday — go back to the years following the Civil War, when it was known as Decoration Day, according to History.com. It officially became a federal holiday in 1971 and has since been most frequently observed by visiting cemeteries or other memorial sites, holding family gatherings, and, of course, having parades.
Whether you're planning a family event to grieve the loss of a loved one, a faith service, a citywide memorial, or simply want a quiet and personal way to honor the special day, you're sure to find what you need in the list below.