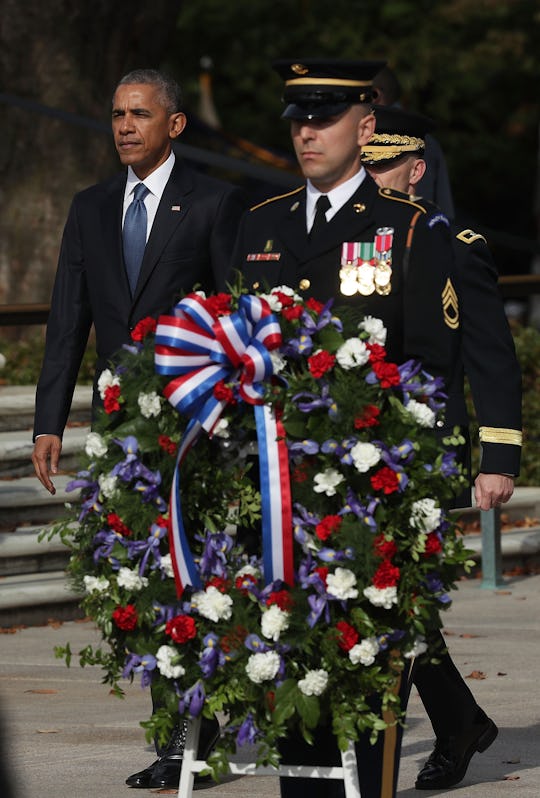 Alex Wong/Getty Images News/Getty Images
8 Memorial Day Quotes From Barack Obama, Because He Truly Understood Remembrance
More than a million people have lost their lives fighting for the United States over the centuries, and each year, Americans endeavor to remember those sacrifices. But how can citizens honor such service? In these Memorial Day quotes from Barack Obama, the former President endeavored to show Americans the meaning of remembrance in his Memorial Day speeches, all but one of which was delivered at Arlington National Cemetery.
"Less than one percent of our nation wears the uniform, and so few Americans see this patriotism with their own eyes or knows someone who exemplifies it," Obama said on his final Memorial Day speech, in 2016. "But every day, there are American families who pray for the sound of a familiar voice when the phone rings. For the sound of a loved one's letter or email arriving. More than one million times in our history, it didn't come. And instead, a car pulled up to the house. And there was a knock on the front door. And the sounds of Taps floated through a cemetery's trees."
Always, Obama implored Americans to pause on the holiday and consider the stories of those who fought and died. And then, just as importantly, to act in support of veterans and the families of the fallen, through community work and the promotion of public policy.
"Truly remembering means that after our fallen heroes gave everything to get their battle buddies home, we have to make sure our veterans get everything that they have earned, from good health care to a good job," Obama said in his 2016 speech. "And we have to do better; our work is never done. We have to be there not only when we need them, but when they need us."
If you're wondering how best to honor the fallen this Memorial Day, consider reading former President Barack Obama's speeches in full. Each of them contains individual stories of bravery and sacrifice from over the years, as well as powerful reminders of this holiday's history. You can find President Obama's speeches on the White House Archives site.