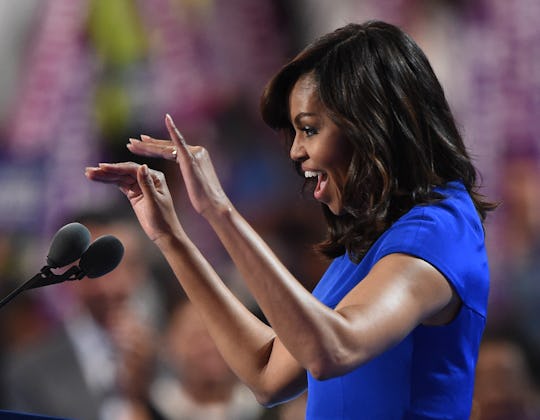 ROBYN BECK/AFP/Getty Images
8 Moments In Michelle Obama's DNC Speech That Told The Truth About Black Motherhood
Ever since the Obama family entered the national political consciousness, First Lady Michelle Obama has been a leader, a style icon, and just hands-down the ultimate in #MomGoals. As a mother, it's especially difficult if not impossible to not admire her, especially given the extraordinarily high scrutiny under which she and her daughters live, and how high the stakes are for the Obamas, as parents, leading America's First Family. During her primetime address at the 2016 Democratic National Convention (DNC) in Philadelphia, Michelle Obama told the truth about Black motherhood and, in a matter of moments, solidified my boundless affection for her.
The First Lady has worked tirelessly to make all of America's kids healthier and better off, even in the face of vicious, often racist and sexist attacks on her dignity. Still, and through it all, she has remained poised yet humble, fun and accessible without sacrificing an ounce of the gravitas befitting her status or professional accomplishments. It's no surprise, then, that she spoke powerfully about her family's experience in the White House, and what's at stake for her daughters and all of our children in this next election.
Because she is #BlackGirlMagic personified, she managed to capture the joys and struggles all moms face, while simultaneously telling some especially poignant truths about Black motherhood, in particular. In doing so, our First Lady set a standard all moms should strive for.