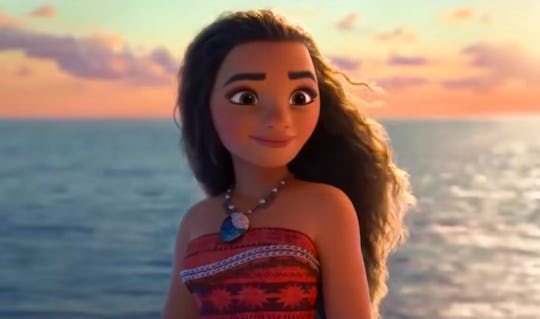 Walt Disney Pictures
8 Movies To Watch On Netflix With Your Family This Thanksgiving
Thanksgiving is pretty much the perfect Netflix holiday: those few days off from work give you just enough time to schedule a session of binge-watching that's easily accompanied by plate after plate of delicious leftovers. Having family around just makes it better. If you're looking for something to tune into, then one of these movies to watch on Netflix with your family this Thanksgiving might fit the bill.
It's a lot easier to find memorable Christmas movies than memorable Thanksgiving ones, but that shouldn't stop you from having plenty to queue up over the course of your holiday. In fact, most of these movies don't have anything to do with turkey or cranberry sauce (or the ethics of pilgrims), but there are still tons of good options to enjoy with the whole family. Some may even smooth the transition into the rest of the holiday season.
So strap on your Thanksgiving pants and locate your coziest blanket in preparation for a post-dinner movie — ideally accompanied by another slice of pie or serving of turkey. A movie is the best way to unwind after a day of toiling in the kitchen and happily stuffing your face. So hopefully one of these films will fit with your family's cinematic palette.
Pocahontas
Thanksgiving is a holiday that already has some implicit ethical conundrums, so why not compound those feelings with a historically inaccurate Disney movie? Enjoy the beautiful animation and wonderful songs, then do some research into the issues that many Native American tribes are facing in this country right now.
Charlotte's Web
After a day of eating various barnyard animals, guiltily remind yourself of how adorable they are by watching their anthropomorphized brethren frolic around in 2006's live action version of Charlotte's Web.
Grease
There is no time of year where Grease is not appropriate. It works in the summer, the autumn, the winter, and spring — any time you're ready to sing along, Grease is there to be sung along to.
Zootopia
A more recent release, Zootopia is the kind of thing everyone can agree on: funny and smart with adorable animation and an enjoyable story. The impulse to watch old favorites on the holidays is strong, but why not make a new tradition with a new classic?
Homeward Bound: The Incredible Journey
However, if you'd rather reminisce about the movies you loved way back when, then settle in for an hour and a half of puppies and kitties having adventures. You'll be crying by the end of Homeward Bound, but hopefully you'll still have some pie left to comfort you.
Moana
Another new film that instantly won over its audiences, Moana is the perfect choice if you want to watch something that has a lot of heart and a heroine you'll be immediately charmed by. And maybe all that gorgeous animated scenery will warm you up a little so you don't miss summer too badly.
Anastasia
Or you can soak up some wintery ambiance instead with a heaping helping of historical fiction in the form of Anastasia, a film with great music, beloved characters, and barely a passing resemblance to events that happened in real life.
The Nightmare Before Christmas
The month between Halloween and Christmas can often feel like a strange no man's land of time, so what better than a movie that bridges the gap? There might not be anything Thanksgiving-specific about The Nightmare Before Christmas, but if you're still not over Halloween (I know I'm not), then maybe it can help ease you into the next celebration.
At the end of the day, it doesn't really matter what you watch on Thanksgiving as long as it's something the whole family can agree on and enjoy together. Spending time with each other (and eating; did I mention eating?) is the whole point of the holiday, after all.
Check out Romper's new video series, Romper's Doula Diaries:
Watch full episodes of Romper's Doula Diaries on Facebook Watch.