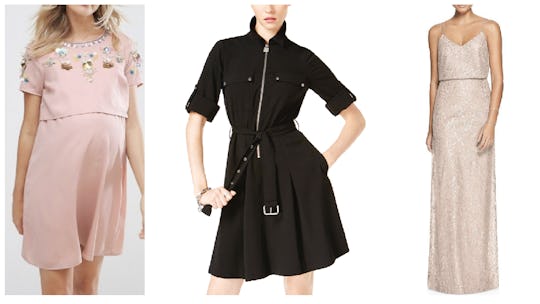 Asos, Macy's, Nordstrom
8 New Year's Eve Dresses You Can Breastfeed In Without Skipping A Beat
As the end of the year approaches, there is sure to be at least one New Year's Eve party on your calendar that you are planning for. Exciting as it may be, as a breastfeeding mom, that often means an evening that's a little bit outside of the norm for you. One of the biggest struggles that comes with going out with a baby in tow, New Year's Eve or not, is finding the right outfit or circumstance that allows you nurse with ease. Luckily, there are plenty of New Year's Eve dresses that you can breastfeed in that will allow you to tackle your number one priority — nursing — while conquering your second as well: looking good.
Whether you're planning on staying out until the disco ball drops and later with the little one in tow, or leaving the baby with a sitter and bringing your breast pump as your plus one, some dress styles provide easier access to the boobs than others. Believe it or not, however, there are quite a few options out there for breastfeeding moms that'll keep you looking stylish too. You can really get glammed up in head-to-toe metallics or keep it casual. Eitherway, there's a dress for any NYE outing you find yourself in this holiday season.
If you're in the process of finalizing your end of year plans and still looking for your outfit, look no further than our list of New Year's Eve dresses that you can breast feed in. You'll find something you'll love to ring in the new year.