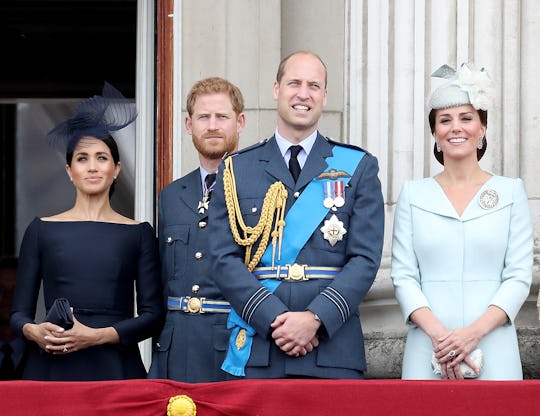 Chris Jackson/Getty Images Entertainment/Getty Images
8 Pets That The Royal Family Currently Has, Because They Legit *Love* Animals
I have a lot of questions about the royal pet situation. Will the Queen ever cave and get a new corgi? Do Will and Kate want to expand their dog family? Are Meghan's shelter dogs still living with her now that's she's upgraded from actress to princess? It turns out, the royals are a little pet crazy, and keeping up with their pets is seemingly a full-time job. If you're wondering what four-legged friends are living their best life behind those castle walls, here are 8 pets that the royal family currently has.
When talking about royal pets, you must start with Queen Elizabeth II's lifelong love of corgis. Queen Elizabeth was given a corgi named Susan for her 18th birthday and since then has "owned at least 30 Pembroke Welsh corgis, all of whom have descended from Susan," according to The New York Times.
Sadly, in April, the Queen lost her beloved corgi, Willow, who was the last corgi in the Susan lineage, according to the Washington Post. "She has mourned every one of her corgis over the years, but she has been more upset about Willow's death than any of them. It is probably because Willow was the last link to her parents and a pastime that goes back to her own childhood. It really does feel like the end of an era," explained the Washington Post article.
So, is the era of the royal corgi really kaput, or is there another breed that the younger royals have embraced, and by proximity, the Queen as well? Let's dive in.