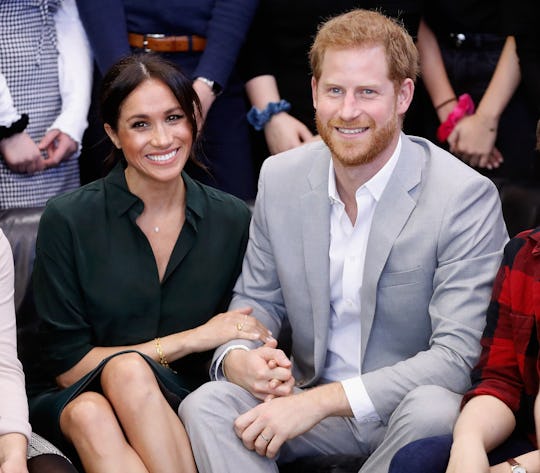 Chris Jackson/Getty Images Entertainment/Getty Images
8 Reasons Prince Harry Is Going To Be A Great Dad To His New Little One
In case you've been living under a rock today — or were just busy running around with the kiddos — another royal baby is on the way! That's because Prince Harry and Meghan Markle revealed they're expecting their first child. As the world gears up for yet another round of royal maternity fashion, taking bets on baby names, and speculating about the baby's sex, I'm just sitting here picturing what the Duke and Duchess of Sussex will be like as parents. And I have eight reasons Prince Harry is going to be a great dad.
On Monday, Oct. 15, Kensington Palace announced the big news, according to People. "Their Royal Highnesses The Duke and Duchess of Sussex are very pleased to announce that The Duchess of Sussex is expecting a baby in the spring of 2019," the official tweet read. "Their Royal Highnesses have appreciated all of the support they have received from people around the world since their wedding in May and are delighted to be able to share this happy news with the public."
Now that it's actually happening — and fans aren't just speculating based on what Markle is wearing or how she styled her hair — let's take a look at all the reasons Prince Harry is going to rock this whole fatherhood business.
Like ...
1. He's Wanted A Family For Quite Some Time Now
Both Harry and Meghan have spoken about their desire to have children one day — they just never put a timeline on it. In a November 2017 interview with BBC shortly after their engagement, Harry responded, "Of course," when he was asked about plans for a baby. "You know, one step at a time. Hopefully we'll start a family in the near future." Before he and Markle were engaged, Prince Harry also indicated a desire to one day start a family of his own. "I would love to have kids," he told The Telegraph, according to Us Weekly. So yeah, this pregnancy definitely isn't a whim.
2. He's Already So Excited About The Pregnancy
It seems that Prince Harry can hardly contain his excitement over his impending fatherhood. Following the royal baby news on Monday, a source told Us Weekly that, "Harry is elated and beside himself." As for the mom-to-be? "She is excited, happy and over the moon," the source added. "She's in great health and has had a very easy pregnancy so far. Meghan has totally been herself and so far, so good." (Awww.) It's really happening, guys!
3. He's Seriously Adorable With Kids
Whenever Prince Harry makes a royal appearance and children are involved, you can bet he gets down on their level and chats with them. He also happens to be a godfather to several of his friends' kids — and isn't afraid to kick their butts at video games. When he was asked if he's a good godfather, Harry told The Telegraph, "I'd like to think so. But I think the key to that is to grow up, but also to be able to stay in touch with your childhood side. If that means going to someone's house and sitting there and playing PlayStation and kicking the *ss of their son on Counter-Strike or Halo or whatever it is, then I'll try and do that. I'm actually out of practice for that." LOL. Yep, he totally gets kids.
4. He Adores His Royal Niece & Nephews
During a June 2017 interview, Prince Harry gave some insight into how close he is with his royal niece and nephews — you know, despite the fact that they bumped him down in the line of succession. "The reason I am now fifth is because of my nephew and niece and I could never wish them away. They are the most amazing things ever," he said, according to the Daily Mail. Then, when Prince Louis was born, he was bumped further. (Sorry Prince George, Princess Charlotte, and Prince Louis, but soon you're also going to be bumped down to the second-most amazing things ever in Uncle Harry's eyes.)
5. He Has Prince William & Kate Middleton To Look To For Advice
Since the Duke and Duchess of Cambridge have three royal little ones of their own, they will undoubtedly be a source of support, when Harry and Meghan need it. From advice on surviving those sleepless nights while also carrying out royal duties, to recommendations for the best diaper rash cream, Prince William and Kate Middleton will likely be fielding plenty of SOS texts from Prince Harry this spring.
6. He Has A Great Sense Of Humor
Especially when you get Prince Harry and Prince William together, they have a tendency to make jokes at one another's expense — and it's freaking hilarious. This sense of humor should serve Harry well as he takes on fatherhood. Because as seasoned parents know all too well, you have to find the humor in certain parenting situations if you want to keep your sanity.
7. He Fits The "Fun Uncle" Role So Well
Back in May 2016 — before Prince Louis was born — Prince Harry dished about his special relationship with is royal niece and nephew. "George and Charlotte will grow up and hopefully find me to be the fun uncle," he said, according to the Daily Mail. "I always want to be the fun uncle." Fun uncle, fun dad? Same difference, right? As long as Harry strikes a balance between being fun and being firm, he's going to do just fine.
8. He & Meghan Markle Make A Great Team
Just watching Prince Harry and Meghan Markle interact, it's easy to tell they're a great team. They're patient, loving, and cool under pressure — all attributes that will surely come in handy for raising children together.
Because of all of these reasons, I have little doubt that Prince Harry will rise to the responsibility of fatherhood spectacularly. Together with the Duchess of Sussex, they will be rockstar parents to the newest little royal come springtime. And I can't wait to see it all unfold!