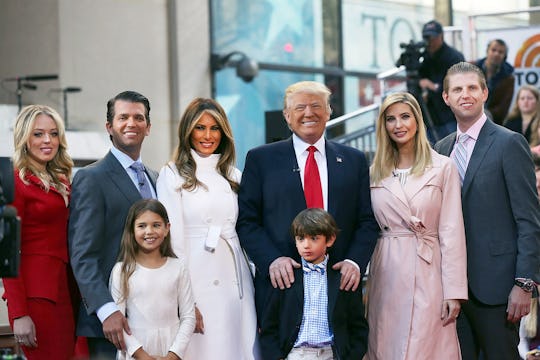 Spencer Platt/Getty Images News/Getty Images
8 Revealing Trump Quotes About His Sons Vs. His Daughters
President Donald Trump has already been in office for over a year, but his personal life continues to dominate headlines. With his family frequently making front pages, as well, many people have wondered exactly what Trump has to say about his children — and more specifically, whether Trump's quotes about his sons vs. his daughters are any different, considering the president's somewhat spotty record when it comes to feminism.
That's not an assumption, either, to be clear: during a recent visit to Switzerland, Trump clarified that he didn't classify himself as a feminist. "I wouldn't say I'm a feminist," Trump told journalist Piers Morgan recently during an interview with ITV, according to CNN. "That would be, maybe, going too far."
Anyone who has heard Trump's quotes about women in general (such as his infamous "grab them by the p—" quote) probably wouldn't be surprised by the president's desire not to align himself with feminism — despite the fact that feminism's aim is simply to achieve "political, economic, and social equality of the sexes," according to Merriam-Webster. But if you zero in on Trump's quotes about his children, you'll see that his non-feminist stance seems to have influenced his views of his sons and daughters, as well.
He Commented On His 1-Year-Old Daughter's Body
In 1994, when Tiffany Trump was just a year old, according to People, her father commented on her body on an episode of Lifestyles of the Rich and Famous.
"I think that she's got a lot of Marla, she's really a beautiful baby. She's got Marla's legs," he said, according to People. He then added, holding his hand in front of his chest:
We don't know whether or not she's got this part yet but time will tell.
... & Then He Commented On His 16-Year-Old Daughter's Looks
Three years later, when a 16-year-old Ivanka Trump was hosting the Miss Teen USA pageant, he asked Miss Universe, according to The Independent: "Don't you think my daughter's hot? She's hot, right?"
... & Then Praised His 10-Year-Old's Computer Savvy
During a presidential debate back in 2016 (remember those good old days?), Trump brought up his son Barron during a discussion on cybersecurity. "I have a son. He's 10 years old," Trump said, according to Mashable. He continued:
He has computers. He is so good with these computers, it's unbelievable.
That Time He Said He'd Date Ivanka If She Wasn't His Daughter
Back in 2006, during an appearance on The View, hosts asked Trump how he'd respond if Ivanka chose to pose for a Playboy cover. According to CBS News, Trump replied:
I don't think Ivanka would do that inside the magazine. Although she does have a very nice figure. I've said that if Ivanka weren't my daughter, perhaps I would be dating her.
Trump Described Donald Jr. As Wonderful & "A Good Boy"
"My son is a wonderful young man," Trump said last year, according to HuffPost, in response to questions about Donald Trump Jr.'s meetings with a Russian lawyer. He continued:
Don is, as many of you know, Don, he's a good boy. He's a good kid.
Later, through a spokesperson, Trump called his son "a high-quality person" and remarked on Don Jr.'s "transparency," according to CNN.
Oh, & He Said He'd Be Dating Ivanka A Second Time
Speaking to Rolling Stone in 2015, Trump responded to a journalist's praise of Ivanka with the following gem:
Yeah, she's really something, and what a beauty, that one. If I weren't happily married and, ya know, her father ...
He Praised Eric Trump & Donald Jr as "Expert Hunters"
"My two sons, Eric & Don, have long been expert hunters & marksmen," Trump tweeted at the National Rifle Association in 2015. "They go on safaris & give animals to the poor & starving villagers!"
He Said He's Proud Of Tiffany Trump "To A Lesser Extent"
"I'm very proud of my children," Trump told Fox & Friends in 2016, according to Mashable. He then, however, added a qualifier, saying:
I mean, I'm just looking at them right now as an example... but I'm very proud 'cause Don and Eric and Ivanka and, you know, to a lesser extent 'cause she just got out of school, out of college, but, uh, Tiffany, who's also been so terrific. I mean, they work so hard.
When looking for quotes from Trump about his kids, it's actually pretty hard to find any about his daughters that don't mention their looks — whereas Trump has not once commented on his son's looks. Instead, he's praised his sons' smarts, hunting skills, transparency, and personalities. Personally, that comparison says more than enough about Trump's views on women.
Check out Romper's new video series, Romper's Doula Diaries:
Watch full episodes of Romper's Doula Diaries on Facebook Watch.